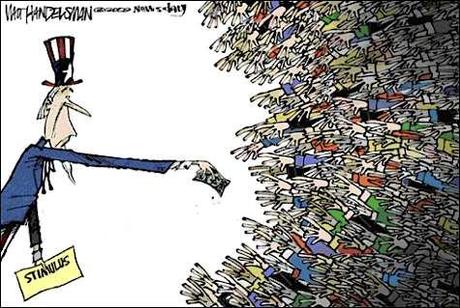 Some question whether the stimulus did enough.
I had been hearing a lot of conservatives reference "Obama's failed stimulus."  So, I decided to find out for myself what the impact of the stimulus has been so far - has it been effective, wasteful, or neither?  I started my research at PolitiFact, where I learned that the cost of the stimulus is $814 billion spread over ten years from 2009 to 2019.  On average, that's $81.4 billion per year.  Considering that the federal government took in an estimated $2.2 trillion in 2010 tax receipts, only about 4 cents of every taxpayer dollar financed the stimulus package (more formally known as the American Recovery and Reinvestment Act).  In contrast, around 22 cents of every dollar funded the Pentagon's military industrial complex.  For the first conclusion, we can rest assured that the stimulus has not single-handedly accounted for America's profligate spending.
Step two was determining the actual economic benefit provided by the stimulus.  How much has it accomplished?  I made a visit to
Recovery.gov
.  So far, $264 billion has been awarded and $152 billion of it has been put to use over the first three years.  The money has financed "shovel-ready projects," schools, and other programs.  Recipients have reported that the money has helped create 560,992 new jobs.  That's an average cost of $271 thousand per job created.  Takeaway number two: as a job creation tool, the stimulus has been rather inefficient.  The US median household income was a smaller sum by a factor of six, just $44,389 at its most recent tabulation.
The third step was finding out what has actually trickled into my community.  I used the interactive map on Recovery.gov to find out how much money has been spent and how many jobs have been created in Monterey, MA and its bordering towns.  Here is what I uncovered:
$0 awarded in Monterey, MA, 0 jobs created
$51,102 awarded to the Town of Tyringham, MA, 0 jobs created
$105,965 awarded to the Farmington River Regional School District in Otis, MA, 0 jobs created
$150,000 awarded to the Town of Otis, MA, 0 jobs created
$0 awarded in Sandisfield, MA, 0 jobs created
$407 awarded to Bear Care Centers (childcare) in Great Barrington, MA, 0 jobs created
$664,122 awarded to Community Health Programs in Great Barrington, MA, 3 jobs created
$149,040 awarded to the Great Barrington Housing Authority, 0 jobs created
$238,092 awarded to the South Berkshire Educational Collaborative in Great Barrington, MA, 0 jobs created
$69,002 awarded to the Berkshire Trout Hatchery in New Marlborough, MA, 1 job created
Totals: $1,427,730 awarded in my community, 4 jobs created
It's hard to find much wasteful spending in these allotments.  The grants to towns all went to improving energy efficiency in aging buildings, while the grants to schools (including mine) helped establish exciting new programs.  CHP now provides my family with affordable dental care.  The hatchery has a brand-new alarm system.  Families have gotten affordable housing; childcare fee waivers have been granted to low-income parents.  But, where are the jobs?  Perhaps the most grave problem afflicting this nation is our 9.1% unemployment rate.  Despite all the good works that the act has financed close to my home, it has done little to improve the availability of labor.  In my eyes, that means it has not succeeded.  However, the stimulus has not been an abject failure, either.
What do you think of Obama's stimulus package?  How has it affected your community?  Feel free to weigh in with a comment!