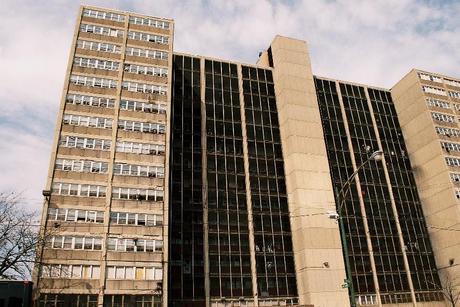 Cabrini-Green, an Infamous Chicago Project Demolished in 2011
On a recent trip to New York City, I was struck by the high-rise public housing projects.  Sadly, the brick and concrete facades of these urban monoliths have become icons of poverty, crime, drug abuse, gang activity, and reduced opportunity.  And while the projects are struggling in New York, similar developments in Chicago, Baltimore, and elsewhere have fared far worse.  It is a problem that has been apparent for years.  Beginning in the 1970s, governments reacted by demolishing the most decrepit projects and encouraging scattered-site housing, which attempts to place low-rise, small scale public housing establishments in middle-class and affluent neighborhoods.  Unfortunately, the stigma associated with urban public housing led to homeowner backlash in host communities, which made implementation of scattered-site housing too slow and inadequate to meet high demand.
Faced with the frequent failure of high-rise projects and the impracticality of scattered-site housing, policymakers have pivoted to a third option.  Now, many benefits to low-income families come in the form of a subsidy which can then be used to rent privately-owned apartments.  However, the cheapest apartments are often owned by 'slumlords,' landlords who collect rent without properly maintaining their properties, becoming wealthier as their tenants' homes fall into an unacceptable state of disrepair.
How can we stop tax dollars from funding unscrupulous slumlords while still helping the people who assistance most?  We might start by recognizing that the underlying problem is
not
government-constructed high-rise housing.  It is neglect and a lack of vision.  Instead of stark skyscrapers built as cheaply as possible, the projects could be beautiful, architecturally-inspired public-private partnerships.  Instead of simply housing, the projects could be homes, with schools, community centers, businesses, and nonprofits integrated into the same structures.  Instead of havens for gang activity, the projects could be desirable places to live with the addition of regular maintenance, proper tenant screening, and robust oversight.
It is imperative that we not abandon the construction of public housing, but we are on the path to doing so as a society.  So, what is to be done?  Step one is the realization that providing homes for those who need them is in itself thinking big.  The process of building and maintaining them should be similarly unconstrained.
These are my thoughts, but I am not by any means intimately acquainted with public housing.  Please correct me if I have made any factual errors, and please share your thoughts in the comments.
Recommended Blog for Further Reading: 
http://slumlordwatch.wordpress.com/