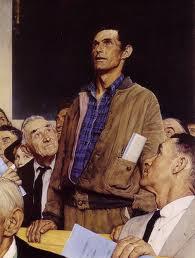 Norman Rockwell's "Freedom of Speech" 

In his famed text
On the Social Contract
, French philosopher Jean Jaques Rousseau argues that although pure democracy might be appealing, it's impractical, especially for large political entities.  To paraphrase him roughly, if everyone must be involved in every decision, the nation has no productivity and loses sight of the general will.  It's certainly cumbersome to involve every citizen in decisions, even when these decisions take place on a smaller scale (such as at a town meeting, just like in Monterey and other South Berkshire locales).  That's why we do so infrequently on a federal level, and indirectly - instead of voting on particular issues, we elect congresspeople and presidents to represent our interests.  However, in the modern era of widespread internet access, wouldn't it be possible to conduct a pure democracy?  Here's how it would work:
Access to internet in the US would be made universal via public wi-fi, libraries, and vouchers for those isolated from these locations.
A well-publicized website would exist containing the full text of every bill, in addition to a summary of key provisions written by an apolitical analysis group.
Citizens over 18 would use their Social Security numbers and a self-created PIN to log in to the site.  Each account would be tethered to one optional vote for or against each measure.
Congresspeople would conduct all debate, procedural votes, bill drafting, and other tasks that they currently perform.  They would forfeit only the power to make the final vote for or against a measure.
The President would retain veto privilege and the same margin of passage would be necessary for overrides.
A citizens' vote would be open for at least 48 hours before polls closed.
There are some limitations to this model.  It could further polarize the political world, as those with extreme views are most likely to participate in the political process.  It could increase the vulnerability of the political process to corporate influence, as companies would have an increased ability to effect change via mass media.  However, it would provide the American people with more sovereignty - something that is increasingly eroding in the current political process.  It could restore confidence in government and erase the disconnect between the leaders and the lead.  And, it is an opportunity that is uniquely possible in the digital age.  What do you think?  Good idea, or flawed proposition?  Give your take in the comments.