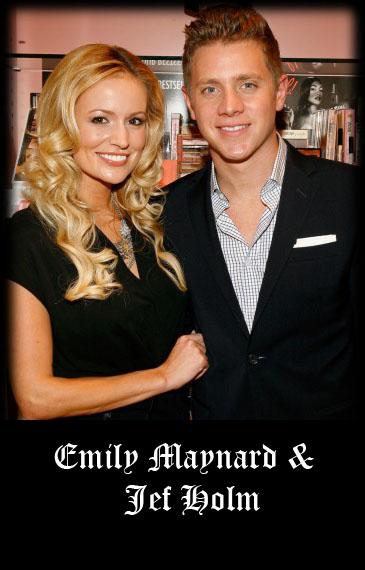 Another round of rumours of Emily Maynard & Jef Holm calling off their engagement surfaced. This time it comes from a reliable source who never seems to be wrong regarding anything about the "Bachelor" franchise. The source claimed, 'The Bachelorette' famed couple called off their relationship the past weekend.
According to Reality Steve, "I don't care if you say I'm crazy … until Jef and Emily [confirm it], I guess that's when you'll believe it, but I can tell you right now that Jef and Emily broke up this weekend. Done. Over. No longer engaged."
"It just happened a couple of days ago. This isn't a rumor, I didn't hear this 5th hand, and I'm not making something up for attention. All I'm here to tell you is that Jef and Emily are no longer an engaged couple and have broken up," added the reality TV blogger.
He also stated that the couple will continue putting on a facade.
"Right now, they are in the process of figuring out how they will present the breakup to the media, when they're gonna release the statement, and [to whom]," he commented.
Though no official statements or comments have been made by any rep of the ABC reality show, but a close source of the couple denied all these rumours saying, "It's not true. They are not broken up."
This isn't the first time when breakup rumours have plagued the couple's relationship since they got engaged on 'The Bachelorette' season finale this July.
Previously, the couple denied reports that Emily was paying Jef to stay with her and also mixed allegations that she cheated on him. Though the latter allegations were fervently denied by Jef, his brother Mike Holm claimed the accusations were true.
For every rumour that triggered interest, the couple jointly denied having a united front each time. Earlier this month, Jef tweeted a photo of Emily with the caption, "Never going to stop falling in love with this babe."
Emily Maynard and Jef Holm got engaged during the finale of 'The Bachelorette' this July, when Jef went down on one knee with an emerald cut diamond halo pavé set engagement ring.
Tell us what do you think: Jef & Emily – Will It Last?