DC Comics has announced today that ROBIN RISES: OMEGA #1 will continue the story of Batman's hunt for Robin after his death in Batman, Inc #8.  Tomasi won't verify if it is Damien that is rising, but after the one-shot, the Batman and Robin title, which has had many names since Robin's death, will now once again be called Batman and Robin.  The following was the release from DC:
The hunt for Robin is over, but Batman and Ra's al Ghul continue the family feud.

Today, the LOS ANGELES TIMES HERO COMPLEX announced an exciting one-shot called ROBIN RISES: OMEGA #1 and the highly anticipated series return to BATMAN AND ROBIN.

They spoke with writer Peter Tomasi about the storylines and his upcoming plan in which he enthusiastically says "starts and ends with a bang and everything that occurs in this epic story all has seeds that Pat Gleason and I planted back during our first arc in BATMAN AND ROBIN: BORN TO KILL."  Head on over to read the interview in its entirety. 

Look for ROBIN RISES: OMEGA #1 with art by Andy Kubert and Jonathan Glapion on July 16 and BATMAN AND ROBIN with art by Patrick Gleason and Mick Gray on July 23.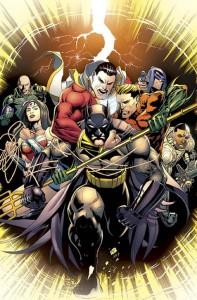 Share on Tumblr