A Free Standing Shower may be the missing piece of the puzzle that will complete your master bathroom. Unlike traditional enclosures, a Stand Alone shower captures the feeling of elegance that will indulge the senses and restore your body with new vitality.
Being the central location that you use to pamper yourself, the shower is your safe-haven, the place you escape to when you need to find a bit of peace of mind after hectic day. Balancing work, family-life, the kids, and after school activities can leave you utterly exhausted by the time Friday finally rolls around. Stand alone showers rejuvenate your body and remove all of those small aches and pains that slow you down throughout the day. Just imagine, steaming hot jets massaging away the tension in your neck while enjoying the soothing benefits of a heated sauna.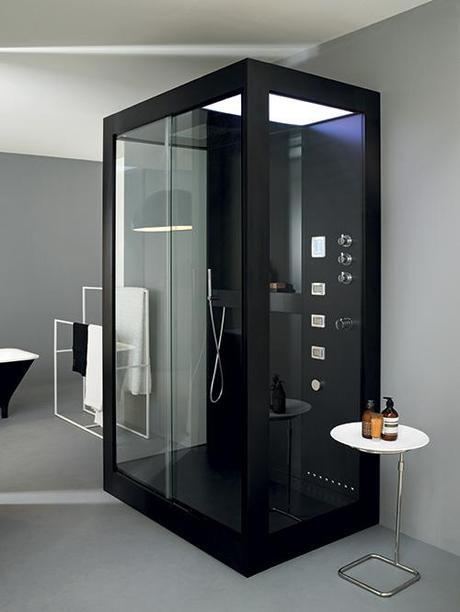 The KOS Aluminum Shower Cabin Avec. Image via Style Homes.
Free Standing Shower Accessibility
A stand-alone shower will allow easy access and a special nook for seating while you cleanse your body. You can even find shower enclosures with built-in seating that provides everything you need for a comfortable wash. With increased elbow room, you will no longer feel like you are cramped in a tiny box. These spacious enclosures are always a favorite of taller individuals.
Free standing showers are also ideal for those with physical ailments that limit mobility. Stand alone showers are ideal for elderly individuals who have trouble bending and maneuvering in tight spaces. You can find free standing showers with accessibility bars that prevent dangerous slips and falls. A trip to the hospital is not the same for those who are growing older in age and should be something you think about before anything happens.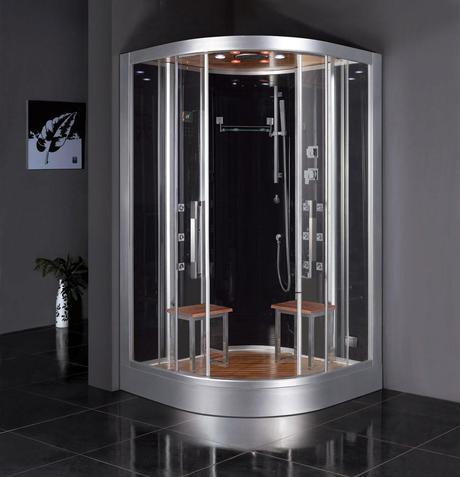 The Maximus Premium Shower. More Photos.
The New Master Suite
The new trend in homes is to build an additional Master Suite that houses a spa and a stand alone shower. These Master Suite's have a level of extravagance that will breathe new life into your home. A separate shower and bathtub incorporate all of the essential elements that are necessitated in a luxury modern bathroom. This is also a great investment that will increase the value of your home because of the special amenities that you will wonder how you ever lived without.
With custom features like body spray, automated temperature control, rainfall shower heads, steam sauna, Acupressure body jets, audio, and a computer controlled timer, these high tech fixtures won't miss a spot on your body! Best of all, many have are equipped with a special cleaning function which means you can spend your time doing things that you love like taking the dog for a walk, playing with the kids, or just enjoying some good old down time.
While it's not completely necessary, it's always an added bonus to include a spa in your bathroom (granted you have enough floor space). Luxury hot tubs are sure to win the hearts of those who consider themselves a "shower person." If you're looking for suggestions, you can take a look at these "5 Creative Bathtubs" that I was able to find on the internet. The Red Diamond Tub is on my personal Christmas Wish List!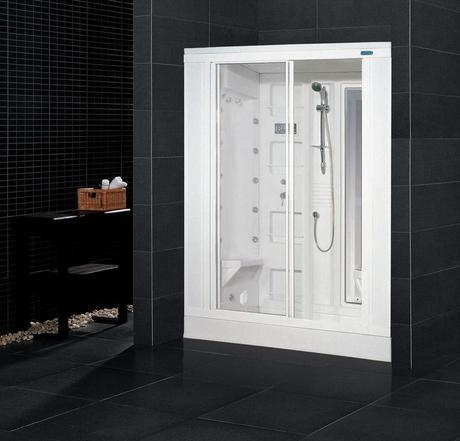 The Arcadius Steam Shower features 15 Acupressure jets, aroma therapy, and a team sauna with thermostatic controls. More info.
Start browsing our selection of Full Shower Enclosure Kits, shower doors, and tub bases at Tradewinds Imports. Order online today and enjoy Free Shipping and Zero Sales Tax for out of state customers!
About this Post
This post was written on behalf of Cheryl Khan who is one of the contributors to the Tradewinds Imports Blog. When she is not writing or decorating homes, she can be found watching romance and comedy movies at home.