Finding Your Needle Leak in the Haystack
While a traditional MRI may show the location of a pseudomeningocele, a Dynamic CT myelogram remains the suggested method to locate a suspected active bleed site or a dural defect in cases of superficial siderosis. Unfortunately, too often, this still proves difficult or impossible, with almost 50% of SS patients being sent home to live with their bleed. Digital subtraction myelography is a noteworthy diagnostic method to discover the exact location of hard-to-find dural defects and CSF leaks in the spine. Lateral decubitus digital subtraction myelography differs from typical CT and fluoroscopy-guided myelograms, including equipment, supplies, and injection and image-acquisition techniques.
Cedars Sinai Medical Center and the Mayo Clinic had stood out in the superficial siderosis community over the past few years for their ability to find the location of an active bleed or CSF leak when no other facility had been able. Could this DSM technique be the secret to their success? Thankfully both facilities offer concierge services for patients who need to travel long distances. In addition, Cedars-Sinai provides language services for international patients with interpreters available in 45 languages.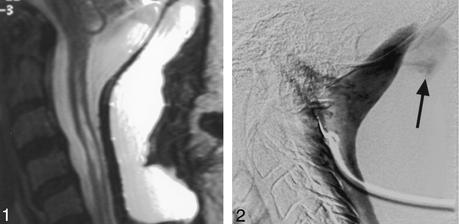 Picture 1 clearly shows a psuedomeningocele on a Sagittal T2-weighted (5400/112 [TR/TE]) cervical MRI, but the leak is not visible. Picture 2 shows the same area with a DSM. The leak is visible.
C. Douglas Phillips et al. "Depiction of a Postoperative Pseudomeningocele with Digital Subtraction Myelography" American Journal of Neuroradiology February 2002, 23 (2) 337-338;
LATERAL DECUBITUS   is a position where a patient lies on their side and is used primarily in radiography and in making a lumbar puncture  
Do You Have an Active Bleed?
A lumbar puncture should be able to answer the question of the existence of an active bleed. Once the spinal tap is complete, your CSF sample will be sent to a laboratory and evaluated for the presence of xanthochromia. Spinal fluid with xanthochromia will have a yellowish tinge caused by red blood cell breakdown. One drawback is while your bleed may be chronic, it may also be sporadic. Therefore, cerebral and spinal angiography is not recommended as a diagnostic source for determining if there is an active bleed in superficial siderosis.
What happens if xanthochromia is not found in your CSF sample? If your imaging shows evidence of an intraspinal fluid-filled collection or pseudomeningocele you may still have a CSF leak.
The Danger of Long-term CSF Leaks
Medical literature has
documented the link between CSF hypotension due to dural defects and superficial siderosis. In addition, orthostatic headaches are often reported by patients experiencing the effects of a long-term CSF leak. This excruciatingly painful associated symptom alone warrants a repair. The clinical spectrum of symptoms related to dural defects in superficial siderosis includes craniospinal hypovolemia, segmental weakness and atrophy with or without hyperreflexia, and spinal cord herniation.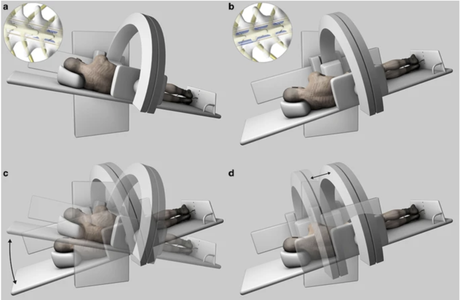 Equipment and Supplies
DSM uses an x-ray system with a high-resolution flat-panel detector and a high-power x-ray tube to reduce exposure time to the ionizing radiation associated with x-rays. A tiltable table is preferred to adjust spine angling and control the contrast flow speed. The pre-contrast image is digitally removed from the post-contrast image delivering a sharper image. Depending on several factors, DSM can be performed with the patient under general anesthesia, moderate sedation, or without sedation.
Once the procedure is complete, a CT Myelogram may also be completed to take full advantage of the contrast already injected into your body.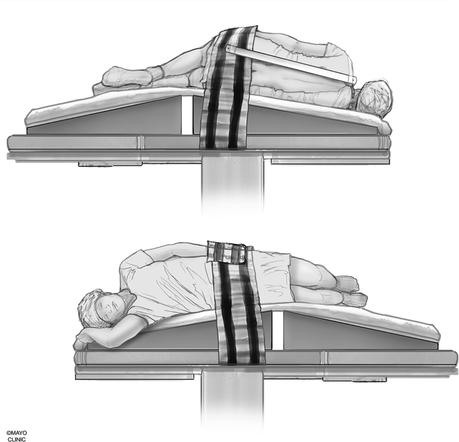 Mayo Foundation for Medical Education and Research. all rights reserved
The Mayo Clinic began using this technique in 2018 and has now developed a custom-made wedge to position the hips higher than the shoulders, allowing for what their neuro-radiologists feel is a better gravity-powered cranial flow of contrast from the lumbar region.
Who Offers The Digital Subtraction Myelography SERVICE?
Cedars Sinai, Los Angeles, California (Accepts Medicare/Medi-Cal)
Duke University Medical Center, Durham, North Carolina (Accepts Medicare/Medicaid)
Mayo Clinic, Rochester, Rochester, Minnesota (Accepts Medicare/Medicaid)
Toronto Western Hospital, Toronto, ON, Canada
Headache Centre, Private Consulting Rooms, National Hospital for Neurology and Neurosurgery, London, UK
C. Douglas Phillips et al. "Depiction of a Postoperative Pseudomeningocele with Digital Subtraction Myelography" American Journal of Neuroradiology February 2002, 23 (2) 337-338;
Schievink, Wouter I et al. "Long-term Risks of Persistent Ventral Spinal CSF Leaks in SIH: Superficial Siderosis and Bibrachial Amyotrophy." Neurology vol. 97,19 (2021): e1964-e1970. doi:10.1212/WNL.0000000000012786
Schievink WI. "Spontaneous spinal cerebrospinal fluid leaks and intracranial hypotension." JAMA 2006;295:2286–96 doi:10.1001/jama.295.19.2286 pmid:16705110