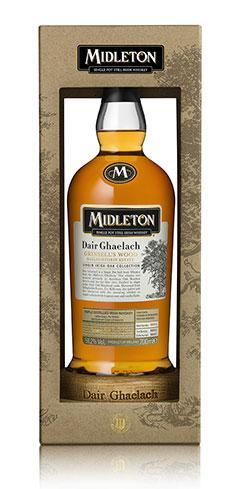 Irish Distillers Pernod Ricard has unveiled Midleton Dair Ghaelach, its first ever Irish whiskey to be finished in virgin Irish Oak Hogsheads. This uniquely Irish expression is the latest addition to the Midleton Single Pot Still family of whiskeys, satisfying the growing appetite among whisk(e)y lovers for discovering new and innovative styles of Single Pot Still Irish Whiskey.
Midleton Dair Ghaelach, meaning 'Irish oak', is the result of a six-year exploration by the Midleton Masters into using native oak to mature Irish whiskey. Led by Master Blender, Billy Leighton, and Kevin O'Gorman, Master of Maturation, the project had two prerequisites. The first was to ensure that all Irish oak was sourced exclusively from sustainable Irish Oak forests that could guarantee both a long-term supply and the re-generation of native wood, while the second was to explore what new taste profiles could be created from Irish oak maturation to craft a new and outstanding Single Pot Still Irish Whiskey.
In collaboration with professional Irish forestry consultants, O'Gorman and Leighton selected Grinsell's Wood within the Ballaghtobin Estate, Co. Kilkenny, to provide the oak for the first in a series of virgin oak releases in the coming years. Each bottle can be traced back to one of ten 130-year-old Irish oak trees in Grinsell's Wood, which were felled in April 2012.
To craft the oak into casks, fellow artisans at the Maderbar sawmills in Baralla, north-west Spain, used the quarter-sawing process to cut the trees into staves under the watchful eye of the Midleton Masters. The staves were then transferred to the Antonio Páez Lobato cooperage in Jerez, where after drying for fifteen month the staves were worked into 48 Irish Oak Hogshead casks and given a medium toast.
At Midleton, a selection of traditional Single Pot Still Irish Whiskey distillates, matured for between 15 and 22 years in ex-Bourbon casks, were married together before being filled into the Irish oak Hogsheads. Leighton and O'Gorman nosed and tasted the whiskey each month and after almost one year, judged it to be beautifully balanced with just the perfect contribution of Irish oak.
Analysis shows that the Irish oak contains higher levels of some lignin derivative compounds, such as vanillin and vanillic acid, and furfural, in comparison to American and Spanish oak. These compounds further enhance the whiskey with vanilla, caramel and chocolate flavours, which are detectable on the nose of Midleton Dair Ghaelach and perfectly balance the classically rich, spicy Single Pot Still taste profile.
Kevin O'Gorman, Master of Maturation at the Midleton Distillery, comments: "With the recent resurgence in plantation, only now has it been viable for us to consider Irish Oak in the maturation of our whiskeys while ensuring that the oak reserves can be enjoyed by generations to come. After six years in the making, Midleton Dair Ghaelach has been a journey of exploration into the craft of Irish whiskey maturation and we are equally delighted with and excited by the newest member of our Single Pot Still Irish Whiskey family."
Billy Leighton, Master Blender at the Midleton Distillery, further comments: "The process of maturing in native oak has enabled us to showcase our Single Pot Still Irish Whiskey style in a new and innovative way; the casks impart much more generous toasted wood, vanilla and caramel flavours than what we expect from American bourbon and Spanish oak, which we hope whiskey lovers will appreciate and enjoy."
Brendan Buckley, Global Innovation and Prestige Whiskeys Director at Irish Distillers, added: "For more than 30 years, Midleton Irish Whiskey has been admired for its distillers' dedication to excellence in Irish craftsmanship and the release of Midleton Dair Ghaelach continues this rich tradition. By working closely with our partnership estates such as Ballaghtobin, we are able to trace each bottle back to an individual tree. This provides a unique whiskey experience that we find very exciting and hope other whiskey aficionados will too, as we see no reason why Irish oak cannot play a significant role in the maturation of our Irish Whiskey in the medium- to long-term."
Bottled at cask strength between 58.1 and 58.5% ABV without the use of chill filtration, Midleton Dair Ghaelach is available from April 2015 in five markets, including Ireland, France and South Africa, at the recommended selling price of $250 per 70cl.
Midleton Dair Ghaelach tasting notes by Midleton Master Blender, Billy Leighton:
Nose: The crisp pot still spices are seamlessly enriched by the woodland fragrance of the Irish oak. Sweet vanilla notes are given depth by some chocolate honeycomb and coffee beans. Whilst the balancing rich fruit aromas of red berries, pineapple and ripe banana compliment the subtle aromatic oils.
Taste: The typical pot still spices are fortified by the Irish oak character. Robust yet mellow, clove and cinnamon give way to dairy fudge and milk chocolate sweetness combining with a touch of stewed apple.
Finish: An exceptionally long finish, with some sweet spices slowly fading, leaving the final bow to the Irish oak.
Hogshead – A traditional type of cask holding approx. 250 litres.
ABOUT PERNOD RICARD
Pernod Ricard is the world's co-leader in wines and spirits with consolidated sales of €7,945 million in 2013/14. Created in 1975 by the merger of Ricard and Pernod, the Group has undergone sustained development, based on both organic growth and acquisitions: Seagram (2001), Allied Domecq (2005) and Vin & Spirit (2008). Pernod Ricard holds one of the most prestigious brand portfolios in the sector and employs a workforce of approximately 18,000 people, operating through a decentralized organization with 6 'Brand Companies' and 80 'Market Companies' established in each key market.
Pernod Ricard is strongly committed to a sustainable development policy and encourages responsible consumption. Pernod Ricard's strategy and ambition are based on 3 key values that guide its expansion: entrepreneurial spirit, mutual trust and a strong sense of ethics. Pernod Ricard is listed on the NYSE Euronext exchange (Ticker: RI; ISIN code: FR0000120693) and is a member of the CAC 40 index.
www.pernod-ricard.com
ABOUT IRISH DISTILLERS
Irish Distillers was formed in 1966, when a merger took place between Irish whiskey distillers, John Power & Son, John Jameson & Son and the Cork Distillery Company. In an attempt to reverse the decline in Irish whiskey sales, the company decided to consolidate production at a new purpose-built facility alongside the existing distillery in Midleton, Co. Cork. Irish Distillers was bought by Pernod Ricard in June 1988 and today, Jameson is the No.1 Irish whiskey in the world, selling over 4 million 9L cases worldwide and contributing more than any other Irish whiskey brand to the phenomenal global growth of the category.
Irish Distillers is committed to driving continued, sustainable growth of the Irish whiskey category. Irish Distillers' portfolio of whiskeys is comprised of Jameson, the world's no.1 Irish whiskey; Irish favorite Paddy; Powers, the robust super premium whiskey for discerning drinkers; and the much-acclaimed brands that comprise the Irish Distillers' Prestige Collection – the Single Pot Still Whiskeys of Midleton which includes the Spot range (Green Spot, Yellow Spot) and Redbreast, Ireland's most awarded single pot still whiskey brand – and the pinnacle of the Prestige Collection, Midleton Very Rare.
www.irishdistillers.ie