If you're an avid gamer and would like to play games on your smartphone, then you might like the iPega PG-9025 Bluetooth Gamepad.
This wireless Bluetooth gamepad is compatible with most smartphones and tablets (both iOS and Android), and it's very easy to use and comfortable to hold. It connects with Bluetooth on your device without any drivers and provides a quick feedback, with no lag. You can place your phone (up to 5.7in) into the built-in holder for more convenient gaming sessions.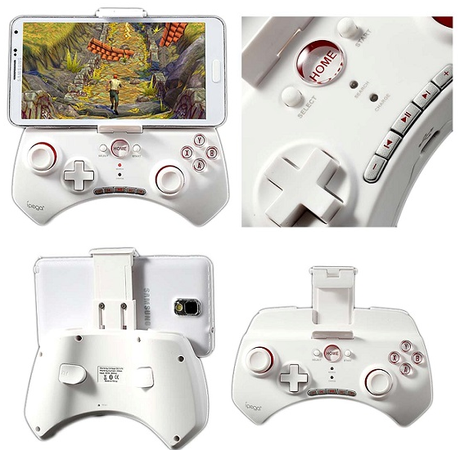 Play games on your smartphone or tablet easily.
The iPega Gamepad comes with Bluetooth 3.0 and is compatible with Android 3.2, iOS 4.3 and newer versions. You can use it from a distance of about 6-8 meters without any problems. The gamepad is powered by a rechargeable Li-Ion battery, which you charge with the included USB cable via your computer or a power adapter.
*Charging time: circa 2-3 hours.
*Working time: about 20 hours.
The iPega Gamepad package includes:
*1 x iPega Wireless Bluetooth Gamepad
*1 x Micro USB Cable (about 153cm)
*1 x User Manual in English
You can purchase this great product in our shop at the price of 37.20 euros.