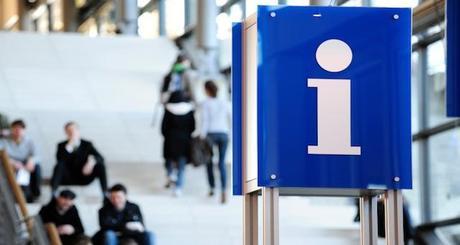 October 14, 2014
0

Email This Post

Print This Post
iPad Kiosks Invite Trade Show Visitors To Interact
Looking for a way to make your next event display more "hands on"? Entice your prospects to take a closer look at your booth by making it more interactive with iPad kiosks.
Of course, there's still a place for all those tried-and-true marketing materials on which most exhibitors rely. Branded tchotchkes are always popular, but they don't tell the whole story of your company very well. Brochures and handouts can convey a lot of information, but they just sit there silently. Conventional video screens can be engaging, but their linear nature means passersby may not catch the beginning of the message or stay for the end.
"Tablet workstations, monitor stands and towers let you transform your marketing message into an engaging, interactive presentation that visitors can use at their own pace," according to Deborah Elms of Trade Show Originals. Elms says that kiosks can even be designed to match the rest of your booth graphics.
Pros and Cons of Tablet Kiosks
Tablet kiosks and stands beckon to attendees to step into your booth and interact directly with your product in a way that other screens cannot. Elms points out that iPad kiosks can work in virtually any booth and are relatively affordable and easy to set up. Another advantage is that when the booth is too busy to allow you to talk one-on-one with visitors, the tablet station can take participants through your product story in a more self-guided way.
On the downside, tablet computers are small enough to "walk away" unless they're secured. The solution is a lockable clamshell or boltable base.
Kiosk options can also include a graphic header, brochure holder, standoff or magnetic graphics, plus a shelf or case.
For more tips on planning a successful event or trade show, check out "Prepare for Conferences with Inbound Marketing" and "How To Promote Your Event Without a Media Budget".