There is no greater motivating force than the sense of urgency and concern you experience as parents when your child is diagnosed with superficial siderosis, an ultra-rare neurodegenerative disease that affects less than one in three million persons worldwide.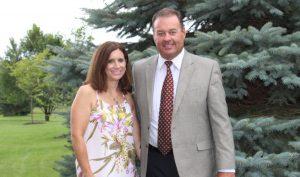 Sue and Kyle
Superficial siderosis entered our lives as a result of head trauma from an auto accident. Our daughter is one of the lucky few to receive a correct diagnosis early on in the progression. Our search for treatment options has now included surgery to repair an on-going bleed in an attempt to stop the build-up of hemosiderin and trying to remove the neurodegenerative existing iron through chelation.
While we hope she will be given the chance for a fairly normal life, we understand that research is critical to the long term success for those with this disease. We have experienced first-hand how rare this disease is and the challenge of finding knowledgeable medical professionals.
Sue and I are extremely excited to partner with Livingwithss.com founders, Gary and Rori Daniel in a collaborative effort to bring together the livingwithss.com superficial siderosis information website, the superficial siderosis patient registry, and all of our fellow SS community, family, friends, and advocates to aid in medical research for those fighting the neurodegenerative disease superficial siderosis.
We hope our continued partnership with SSRA medical advisor, Dr. Micheal Levy (who has accomplished so much already on a very slim budget) will lead to new and exciting breakthroughs in the field of superficial siderosis research. Every alliance is only as good as its team. Over time, we hope by recruiting regional leaders to coordinate fundraising efforts and help identify interested business sponsors we can build this into a powerhouse alliance dedicated to helping find options for existing and future patients who are diagnosed with this devastating disease.
I have now participated in two rare disease conferences in Washington D.C., am actively fundraising and spread superficial siderosis awareness to others at every opportunity. Sue and I currently live in Wisconsin and it's our hope to meet as many people as we can over time to further our mission. We have recruited a remarkable, diverse and experienced Board of Directors that is ready to hit the ground running.
Together we can make a difference in all of our lives and especially for our loved ones diagnosed with superficial siderosis. This is why the Superficial Siderosis Research Alliance, a 501(3)(c) nonprofit has been created.
Kyle Dempsey, Co-Founder and President, Superficial Siderosis Research Alliance (SSRA)
Meet Gary and Rori Daniel
Living With Superficial Siderosis began its existence as a way to keep family and acquaintances updated after my husband was diagnosed with superficial siderosis in 2014. The information online outlining the road ahead for him was extremely grim. It wasn't long after the website began I realized we had an opportunity to upload as much superficial siderosis related data, information, and news as we could gather in a non-identifying generic information format to help educate others in our community.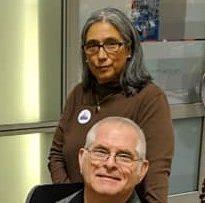 Our part in the SSRA alliance began with a simple email, "Hi, my name is Kyle Dempsey. I was reading through your website about superficial siderosis. Who are you?"
It's hard to lay your life bare for the world to read but I realized after some email back-and-forth it was time for us to come out of the shadows, ditch the generic format, and produce some honest first-person writing -no matter how uncomfortable. People appreciate the information but what they really need is to connect with someone who fully understands this frightening journey of superficial siderosis.
As our conversations continued we spoke of the need for more research and funding. One question Kyle voiced, "Does the superficial siderosis community have a non-profit organization in the U.S.?" A single hard working charity based in the U.K. was the lone organization. We discussed the obstacles and missed opportunities this presented. Every rare disease support resource always asked "are you a registered 501(c)(3)?"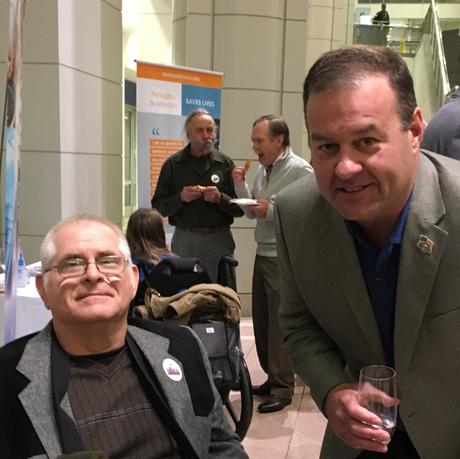 Gary Daniel and Kyle Dempsey
My husband and I were able to meet Kyle during a rare disease conference we attended in Washington DC. We spoke of the what-ifs. Kyle kept the conversation going when he returned home with doctors, business owners, and fellow fundraisers. Finding the support they knew an organization like this would need Kyle and his wife chose to take this giant first step.
The Superficial Siderosis Research Alliance is supported by an amazing board of directors who have volunteered their collective experience in the world of fundraising, marketing, business, accounting, and medical fields. Superficial siderosis is classified as an ultra-rare disease but our worldwide patient population grows every day as physicians begin to understand and recognize the progression of symptoms that appear long after the trauma or surgery responsible.
Rori Daniel, Livingwithss.com, Vice-President, Superficial Siderosis Research Alliance (SSRA)
The Superficial Siderosis Research Alliance Mission
To seek, raise and provide funding in support of medical research for the benefit of the rare disease community affected by the neurodegenerative disease superficial siderosis and the identified symptoms brought on by this disease such as ataxia, hearing loss, and myelopathy.
Now that you know a little about us can we talk about you? This is an opportunity to help our effort either as a donor, corporate sponsor, partner, fundraiser, or volunteer. Our goals may be straightforward but the journey there will be long and expensive. Help us ignite research and join an unstoppable community of giving and support. Our story is far from ended.
For more information visit ssra.livingwithss.com
Help support the Superficial Siderosis Research Alliance (SSRA).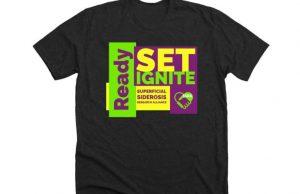 This is an opportunity to join our advocacy effort and keep the dialog on going. Your purchase of this SSRA launch T-shirt is a great way to not only show your support but is also the perfect conversation starter. This is a limited first run fundraising campaign celebrating the roll-out of your newly formed nonprofit organization.
You may pre-order this in either a premium unisex short or women's slim fit t-shirt. All fabric is combed and ringspun for a soft texture and premium feel.
Unisex are available in XS thru 3XL in Black, Charcoal, Navy, White, and Berry
Women's Slim Fit are available in XS thru 2XL in Charcoal, White, Berry, and Blue
T-shirts are $25 plus shipping. Orders will be accepted directly from Bonfire.com for 21 days. At that time sales will close, the shirts will then be printed and shipped directly to you.
Please, follow this link to order.
#MAKEITHAPPEN