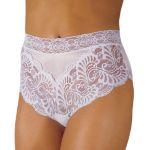 At National Incontinence, we want to provide our customers with the best incontinence products at affordable prices. Although our disposable products are convenient, they can be quite costly, especially if you are using them on a long-term basis. That's why we're excited to carry a new line of washable incontinence underwear from Wearever, a leading supplier of reusable incontinence supplies.
There are a total of nine new Wearever products: three for men and six for women. Men can choose from the traditional white briefs or a boxer-briefs style. As for women, they have the option of lace trim designs, floral patterns, or plain neutral-colored cotton.
These reusable underwear, which can be machine washed and dried 200-250 times, look and feel like regular underwear. They're meant for light to moderate incontinence, so if you're experiencing light bladder leakage due to childbirth, menopause, or prostate surgery, these products may be a good option.
Each pair of incontinence underwear comes with a sewn-in pad so you don't have to wear an additional disposable incontinence pad. The underwear also comes with antimicrobial fibers that eliminate odor-causing bacteria.
If you're looking for an economical and green alternative to disposables, try our new products and be the first to leave a review!