Today, I'm very proud to have an "official" announcement to make about a very special project. The following press release is being sent to local and regional media outlets today: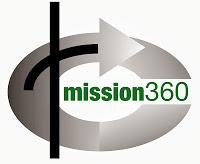 Mission360 to provide Pine Belt Area with services for those in need
  

In conjunction with PineBelt360, the area will soon have the benefit of another resource for citizens who are unable to afford legal and other services.
  

Mission360 is the professional services arm of PineBelt360, an organization started in 2011 by area leaders headed up by Stephen and Dawn Beam, with the goal of unifying the Body of Christ to serve the community. Since then, PineBelt360 has continued to grow, and is currently headed up by Executive Director Van Jones.
  

Mission360 will begin by offering legal services, with the ultimate goal of providing medical, dental, financial, and other professional services. The goal of the legal clinic will be to connect those in need of legal services, who for various reasons cannot obtain them elsewhere, with short-term assistance. A steering committee was recently named to facilitate the launch of Mission360.
  

Realizing that there are already in place certain entities that provide legal services to the needy, Mission360 does not seek to compete with these organizations in any way. Unavoidably, certain gaps exist that leave many underserved, and the volume of need has proven to be ever-increasing in recent years.

 

Mission360 will attempt to fill those gaps in ways that complement the resources that are already in place.
  

The pro bono legal clinic will be housed at Christian Services in downtown Hattiesburg. In January, the clinic will host a CLE (continuing legal education) seminar for attorneys, in which the attorneys in attendance will also be available to meet with individuals in need of legal assistance. The clinic will also begin staffing the clinic with attorneys on certain days of the month to provide free legal services to individuals who qualify. Attorneys who volunteer to provide services will be matched with those in need of services based on their area of expertise.

 
  

For more information about Mission360, email [email protected] A website for Mission360 is coming soon. For more information on PineBelt360, go to www.pinebelt360.com.
Members of the Mission360 Steering Committee include:
Dawn Beam
Sam Buchanan
Deborah Gambrell
Kendra Lowrey
Marcus McLelland
Bill and Cookie Prout
Cindy Re
Jennifer Rogers