In recent days, you may have seen a news story or two about some Lands End customers being upset about receiving a free copy of  GQ Magazine. 
Sit down before I tell you this…It happened to us. 
In case you missed the headlines, here are a few of them: 
Lands' End has mothers irate over topless GQ giveaway
Lands' End Customers Are Freaking Out Over GQ Cover
Moms angry with Lands' End for sending them 'obscene' GQ mag
'My 14-year-old son was disturbed': Land's End customers' fury over ...
Lands' End: Sorry About the Naked Model on the Magazine We Sent
Here's how this played out in my house. 
Sometime during the day last Tuesday, I noticed an email from Lands End. It is not particularly unusual for me to get emails from Lands End. The private school my children attend requires that their uniforms be ordered from Lands End, so at least a couple times a year, I have to get them to send me some polos with the special crest on it and some khaki skirts and pants (reinforced knees, please). 
In the midst of a busy workday, I didn't take the time to stop and read the email, but I did notice it mentioned something about an apology in the subject line. 
Went right by it. 
That evening, after work, I picked up the kids and headed home. I got them situated at the table, eating supper, and eventually noticed the stack of mail on the counter, placed there by my husband, who had gotten it earlier in the day and who was at a meeting at church that night. 
Starting from the top, the pile of mail looked pretty uneventful. A postcard reminder of some appointment, some junk mail, maybe a bill. Then, one of those slick, full-page advertisements from a local car dealer. As I picked up the ad to toss it in the garbage, I uncovered the final piece of mail on the bottom of the stack. 
And I slapped the car ad back down on top of it because the kids were a few feet away. 
What I had just seen was the magazine cover that was the subject of the articles above. "Umm, that's weird," I thought, still not making any connection to the email earlier in the day. Then I got curious about something. I uncovered just enough of the bottom corner to see the mailing label. 
It was addressed to ME. This was getting bizarre. Or was it? I've got some friends who are pranksters, and so does my husband. But at this point in our lives? If this was a prank, it seemed out of place in our late 30s/early 40s (note: I'm not in my 40s yet), more like something our peers would have done a decade (or two) earlier. But we do have that one friend that rolled our yard a couple of years ago. Hmm. 
Then I noticed it. On the mailing label, to one side, it said "Lands End Bonus". 
Oh. An apology. 
I quickly pulled up the email from earlier in the day.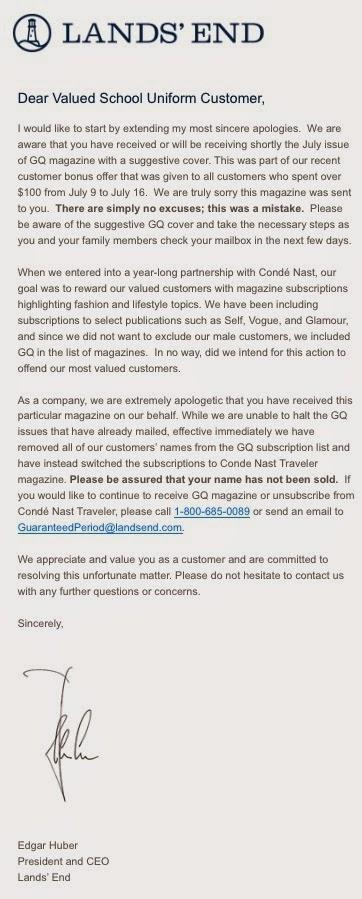 After a minute, I started to giggle. I couldn't help it. 
See, here's what makes this marketing fail so epic (and hilarious): 
- "This was part of our recent customer bonus that was given to all customers who spent over $100 from July 9 to July 16." 
- Lands End sells school uniforms for students who attend private (and predominantly religious) schools, much like ours, who have contracted with Lands End to provide the embroidery of the school's logo. 
- Mid-July is the time when the moms of these kids place orders for uniforms for said kids. (It takes a little extra time for the logo embroidery, so you don't want to wait much longer.) 
Thus, it stands to reason that LOTS, if not most of Lands End's customers "customers who spent over $100 from July 9 to July 16" were moms who have their kids enrolled in private (and again, mostly religious) schools. 
And they ALL got this magazine. Thousands. Probably, like me, with their names on it. And I wouldn't be surprised if some shmuck that "did not want to exclude our male customers" (but apparently failed to take into account Lands End's primary customer demographic in July) is likely no longer employed at Lands End. 
I am not fond of making fun of someone's misfortune, nor of belittling an offense taken, and by all means, protect the sweet, innocent children (though I have my doubts about a teenage boy finding this cover "disturbing" as one mom stated in one of the articles above).
But y'all, we have a sense of humor around our house, and THIS IS JUST FUNNY. It even spawned a series of text messages between myself and a couple of friends that involved that emoticon smiley face that is laughing so hard it's crying. 
I get it, it could have (and probably did) play out in a much more unfortunate manner for some folks, perhaps with children going to check the mail, and returning wide-eyed from having seen something not appropriate for them to see. 
I guess comparatively, the recent events across the country and the world that make me shake my head and really wonder about how our children are going to process and navigate all of it when I'm not even able to…make a racy magazine cover the least of my problems on a Tuesday night. 
So yes, I personally had a good laugh over all of this. A really good laugh. After a stressful several days, for various reasons, it felt good to laugh. 
Thus, Lands End, I won't be piling on the rants about the magazine. 
That said, I am kind of looking forward to my Conde Nast Traveler subscription. 
Jenny Mac