I don't know if this is anything new, but it certain caught my attention on my recent trip to the supermarket. If you've been a long-time reader of my blog, you'd know I'm a sucker for simple packaging. While other brands put all these fancy shiny things on their products, nothing grabs my attention more than something that looks plain; something that will make me want to pick it up, look at it, flip it around and read the back of the packaging to see what it's all about.
So, when I saw these I had to pick them up and who WOULDN'T for the price they were – you'd be crazy not to!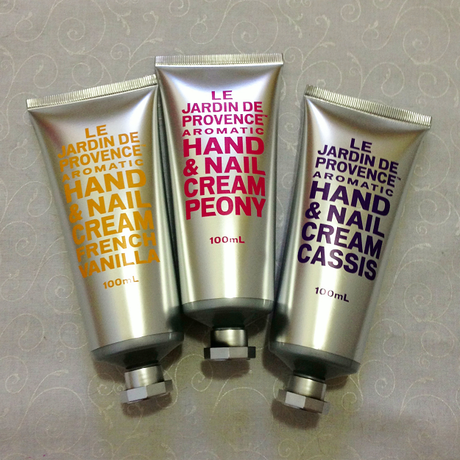 These hand and nail creams come in three beautiful scents; French Vanilla (yellow), Cream Cassis (purple) and Peony (pink). By far, Peony is my favourite; it's sweet but not too sweet and the scent stays on your skin for ages.
Both French Vanilla and and Cream Cassis has a fabric softener scent to it, which I love. Very fresh scented and light and not too overpowering.
The product itself is amazing! It's a thick texture, very creamy but is very light on the skin. It's non-greasy or sticky and leaves your skin feeling like cashmere with the lovely scent of your choice.
I'm yet to see how they go in the long run and with regular use, so I will do a product review later on them. Le Jardin de Provence Aromatic also have body washes and body lotions in these three scents that I would also LOVE to try out as well.
Le Jardin de Provence Aromatic Hand & Nail Creams are available from Coles, RRP $3.99. That's right – $3.99!


Have you seen and tried these hand creams?

LOVE 
(

1

)
LIKE 
(

0

)
RELATED POSTS:
Organic Drugstore – PRODUCT REVIEW: Redwin Organics Orange & Bergamot hand cream
INTRODUCING: Beauty Essentials Skincare Range
NEWSFLASH: Models Prefer's NEW skincare range at Priceline
WAKE UP! It's 2012! – Goals for the next 12 months
PRODUCT REVIEW: Dr. Organic's Organic Rose Otto Hand & Nail Cream