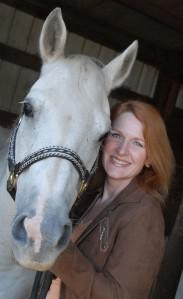 Recently I had a break through riding my mare – she not only happened to be in a great mood, she taught me some things I needed to know.
When I first began to ride her and she intimidated me – after all, she's large and strong and has attitude –
I would fight with her – I wanted her to do what I poorly communicated through my arms and legs and she was quick to show me I gave confusing messages and didn't know what I was doing.
Like most humans who are put in control before they know what they're doing, I over corrected, became increasing frustrated and got worse at my communication however more vocal in blaming my horse.
Think about that – how many times does this happen in business?
As I continued to ride, increased my confidence and ability a subtle shift occurred and lessened my grip on the reins; I began to trust my mare – after all – we were in this together –
As I began to listen and note her silent messages – so unlike my own – she began to show me what she wanted, how to ask her to move, the amount of pressure to use –as I picked up on the cues we started to accomplish more –
As we moved into the corner of the arena with the goal of going into a lope – a slow run, I lightly asked her to go with my outside leg and it was fluid and flowing – no bucking, stumbling, ears penned back on me this time. Success!
What can you do today to become more subtle in your communication? What cue and clues are you missing because maybe you are a little afraid, confused or over your head?
What if you gave up a little control and went with the flow? What if you trusted the people you work with more and didn't need to get your way right now?
Because I am committed to becoming a good horse woman – I get back in the saddle on a regular basis – I have a teacher/coach – I put time in learning, doing and reviewing and I am improving.
This is the same with business – learning any new skill, communicating with co-workers and clients – all of them teachers for us if we allow it, if we listen, if we trust.
Today – get back in your saddle with a new commitment – to pay attention, trust and know that you'll learn as you go.
Also know that the best way to enjoy the ride is to work in coordination rather than intimidation.
Get ready to run!
"Genius is the ability to reduce the complicated to the simple." C.W. Ceram
Remember you create your day by the way you think! Make it magnificent!
Blessings, Shawna