The Raccoon took some time to chat to Cole Salewicz, known for providing smoozy vocals and snappy lyrics in London-based band The Savage Nomads. We spoke about their latest single 'Jaded Edges', color bind band members and singing like Robbie Williams  into hairbrushes.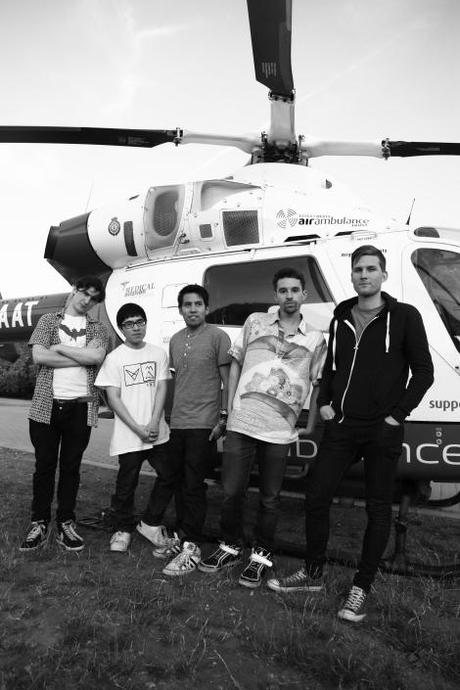 The Savage Nomads, preparing to rescue a spaniel lost on a moor.
Hi there Cole. What can you tell us about 'The Savage Nomads'? How many Nomads are there and what makes you so savage? 
Well The Savage Nomads are the real McCoy, the bastard child of a few other South London groups including the notorious Johnny & The Crack Squirrels. They've been knocking about for a few years now, figuring out their instruments and their color coordination. Which is tough actually as Josh (lead guitar) is color blind, it's a constant challenge keeping him from walking across the road when he should wait. I can't really get objective about why we are so savage, I think we've watched enough spaghetti westerns and japanese anime cartoons to concoct some popstar sounds. 
'Jaded Edges' is your latest single and includes the line 'Elvis had his piece of the pie, well guess what baby, I'm having mine'  (we liked that line a lot) but what is the song about? 
Thanks, that's maybe my favorite line in the tune actually, it's a fun song to sing. It's about those very exciting opening moments of interaction when two people meet each other: lightning eye contact and how you portray yourself when your propellor's spinning. Spontaneity and the law of attraction. And elvis' fat ass. 
The vocals have a sleazy crooning quality (that's a compliment). Who or what influenced the vocal style?
 I just realised I'm all about ultimate frisbee and Spandau Ballet after one review compared me to Tony Hadley. Which was pretty hilarious. I only know their song 'True' because it's in a lot of great cheesy 80s movies but WHAT. A. JAM. (backstreet boys totally nicked the piano hook) I don't really know where my singing comes from, it's probably what just worked you know! I did love used to pretending to be Prince/Dean Martin/Robbie Williams with a hairbrush if you know what I mean…I've really gotten into singing and harmonies with this new batch of songs. 
 How have you moved on from 'The Tension in The Middle' EP? Is it important to get a balance right between making progression and keeping what initially attracted people to the band in the first place? 
Well we've moved on in a sense that we're now a lot more focused on cohesion I think than ever before. I think for a while there we just sorta plugged in and played but now we're more tactical. A lot more tactical than Roy bloody Hodgson. 
This video is not the first you've done shot on a sunny day in London, do you think the band has a particular connection to the city? 
Well yes. I do actually love it, I do pine for it after about 6 days away and I do think global warming is really making it an interesting place to live. I wanna swim in the thames and mine for chalk in chalk farm. I write a tonne of songs on the underground also, so I gotta lotta love for London, almost as much as I do for making music videos. 
If you had to recommend someone else who you think we should be checking out, who would that be? 
Bare Pale. The Hypnotic Eye. Young Romance. Bad for Lazarus. Vegyn. Natalie McCool. The Rotten Hill Gang. 
If people liked this and wanted to hear more of The Savage Nomads, where could they go? 
They can like us on www.facebook.com/thesavagenomads and follow us at www.twitter.com/thesavagenomads - I personally manage these pages and am more than happy to have a proper chinwag with anyone. ALSO if anyone's in a good band, gimme a shout [email protected]. I write a column for Artrocker so am always on the lookout . 
We'll do the band scouting here thank you! Finally, would it kill you to throw in a 'raccoon face' for us in your next video? We'd love the reference. 
For you babe, anything. 
You can watch the video for 'Jaded Edges' below and you can pick up the single for any price you wish on their Bandcamp page. How charitable!