Yesterday I was interviewed by Tracy Townsend of Channel 10 Eyewitness News.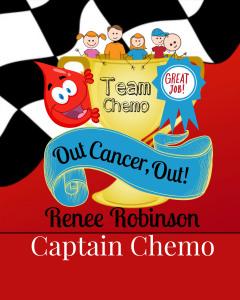 Captain Chemo, Out Cancer, Out!
It is hoped the interview will generate donations for The Team Chemo Series and other children's books to be provided by the children's hospitals and treatment centers and given to the children inflicted with terminal cancer and other diseases too. It is planned for Team Chemo to grow to eventually include other childhood health issues.
It went very well except I did draw a few blanks on a couple of questions. The current chemo treatment I am undergoing is very hard on my thought processes and short term memory. Fortunately, I did include a written document which pretty told her in detail the things she wanted to know, but had forgotten when asked.
I do not yet know when the interview will air. I will be given a link which I can put on my UTube for those who would like to see, but missed on TV.
I have also started a new campaign on Inkshares. Once I have it approved, I will post it here along with a link to find the entire campaign.
Some of you have followed my blog since the beginning. I feel I have come a long way since then. It goes to show, although one may be near-death, life is not over.  It can and should be lived with all its color.
Do not be afraid to set your goals and make your dreams come true.