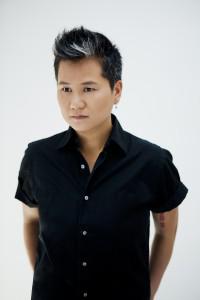 KS Stevens by Sophia Wallace
04/09/12- by Natasia Langfelder
KS Stevens is a playwright, composer, lyricist and librettist. Within the queer and Asian communities she is most well known to date for her productions of "Butch Mamas" and "Yellow Lens," both at the Wow cafe theater in 2009. That same year she also won the title of Miss Lez and in 2010 was named one of GO magazine's 100 Women We Love. In 2011, my short film "Katie & Kaden" also won best newcomer at the Asian American International Film Festival's 72 Hr Shootout and debuted at the Sf Transgender Film Festival.
This summer, she is preparing to debut her new original Off-Broadway Musical, BIG EXCELLENT 20TH REUNION. The play focuses on Erica. Erica is a teenager whose lesbian mother passed away, leaving Ally to convey her last wishes to her friends. It is going to have a 3 week run in June, for NYC Pride. I was lucky enough to be able to sit down with KS and you're lucky enough to get to read the results.
Where did you come up with the idea for BIG EXCELLENT 20TH REUNION? What was the creative process like for you?
I grew up loving musical theatre, but couldn't sing.  I've always wanted to write a musical. When I found my voice as a playwright I decided I wanted to follow in the footsteps of plays that helped m get through my growing pains. When I became an adult and realized I belonged to a lot of communities that were underrepresented in theater. I made a commitment to myself to write diverse plays that I would pay to see, but didn't exist yet.
Your work is known for combining comedy and drama, why do you choose to express your creativity through dramedy?
It's a phoenix from the flame situation for me. Sometimes there are situations people have to live through that are difficult. By nature I try to diffuse sad situations with comedy. It's a coping mechanism for me. When I wrote Butch Mamas! it was very painful to admit to myself that I wasn't pursuing the opportunity to have children. I had a nice cry over it and realized a lot of others, lesbian or not, men and women, probably go through the same things. My situation can be seen as sad, but I also like to provide hope audience members. So I wrote about a bunch of butch lesbians and their partners who were stronger than me and doing the things I wasn't doing. What I found from my hetero and gay males friends who came to the play, is that they all could relate to the play.
With BIG EXCELLENT 20TH REUNION I have now matured to an age where embracing my own mortality was something that freed and motivated me to not take time for granted. I wrote this play not only to bring the entire LGBTQA community together, but also be able to provide hope and a vehicle to work out feelings if a friend or loved one having a difficult time with emotions when dealing with cancer, HIV, loosing a parent and / or friend, and also for those who are sick, so they know those they leave be behind will be okay.
What are some themes that recur throughout your work? 
Death. Life. Friendship. Family. Community. The human connection and condition.
BIG EXCELLENT 20TH REUNION is a musical and you played a big part in composing it, how important is music in your life? 
My parents always encouraged me to pursue music and play instruments. I tried everything and am not great at it. So when I write musicals I write songs when the characters souls need to be heard. Lyrics come first and I can hear the music in my head and think broadly with the chords.  Then I find a musical director, who is like an actor. They take the music and flesh out the compositions for the musicians.
When I started writing, I found I needed to be a stronger librettist. That's why I studied playwrighting and I put up my three other plays before BIG EXCELLENT.
You partnered with a ton of charities for this event, such as the LGBT Center, MCCNY, HALO, how did these partnerships come about and what kind of role did they play in the formation of BIG EXCELLENT 20TH REUNION? 
My mother and father raised me to remember and help others. I asked all of the organizations if they would entertain my proposal. These are the Partners that said yes. I partnered with all the charities for two reasons. The first is all of them do so much good for people unconditionally or because of sex, gender and class. The second is because all of the people in the play are people these charities serve. I was adopted from Vietnam. Two of the charities work with the Vietnamese (H.A.L.O. and the Catalyst Foundation.) MCCNY Homeless Youth Services Sylvia Rivera's Place helps all LGBTQA people who needs food, shelter and more. The LGBT Center Programs focuses on art and community, but their services also provide needle exchanges to those that need help the most.
The second reason is the non-profit Partners will be splitting audience donations equally, unrestricted, so they can continue to help others, for providing a blurb of the musical and a link to purchase tickets, if their subscribers wish.
Currently, Bianca Leigh and Elizabeth Whitney are cast are you leads. How did you find them and what was the casting process like? 
I met Elizabeth Whitney through Lea Robinson, her wife. Lea played "Alma" in my production of Butch Mamas! I was so excited to meet her because I was working on this play and wanted to cast out Actors with musical theater training as much as possible. Elizabeth is very accomplished and been performing in NYC for quite some time.
With Bianca Leigh I scouted her when I started looking for talent. She has an incredible voice and is an amazing talent. I went to her show Busted: The Musical so I could see her in person and I knew I didn't want anyone else. It is important for me to have ethnic roles be played by ethnic, otherwise it is "yellow face" or "black face." And that is unacceptable. I knew that if I did not cast a trans woman in this role I would regret it forever and it would be hypocritical.
Switching gears, I heard that you won the Miss Lez Pageant! How has that affected your life?
Miss Lez was a lot fun. If someone told me an Asian butch lesbian could won a pageant, in my teens, I would have felt like I belonged to the Queer tapestry sooner than later in life. I also met a lot of wonderful people through that experience.
Ok, back to business! What message do you want the audience to take away with after watching BIG EXCELLENT 20TH REUNION?  I'm almost afraid to answer this because everyone will take away from the show what they need to at that point in their lives. As a playwright I hope I created an art vehicle that make people give more care to loving friends and family. I also hope some some audience members will remember the message and make someone else's coming out experience easier.
——————————————————————————————————————————————————————————
Want to go?  and the show is playing at Theatre 80 on 80 Saint Mark's Place for a 3 week run in June, for NYC PRIDE. June 6 – 23rd, 2012. Tickets go on sale May 1st, so get ready ladies! The FB page for BIG EXCELLENT 20th REUNION is going to be ready in two weeks, so keep your eye out for it.
For more on KS Stevens, click here: www.ksstevens.com 
Want more Natasia? Of course you do www.hotfemmeinthecity.wordpress.com