Jet setting, hotel hopping, thrill seeking, fine dining, sun soaking, mountain air breathing, seafaring, nature exploring; is that really the life of a travel writer? Being able to say the words "I'm a writer" when asked what I do for a living at parties is the most glamorous part of my job.
Sometimes, that's where the glossiness ends for me. Because most days, hitting deadlines is my biggest concern. So it's nice to meet other writers who walk the same paths, share the same niggles of life, and relish the same highs.
Guyan Mitra is a freelance travel writer, and a successful one in this cutthroat crusade of travel writing. His features have appeared in the Sunday Times, the Daily Telegraph, the Independent and Esquire just to pluck a few. He's written guidebooks for Lonely Planet (Indonesia and Costa Rica), Hedonist Guide (Lisbon), and now he embarks upon the final chapters of the Rough Guide to South East Asia with a Cambodian daydream getting him through his rainy days in London.
Q&A Session with Guyan Mitra
There are days when I feel sorry myself. There are days when my Harrogate office smells awfully like Harrogate (and not the complex spices of South East Asia). There are days when the sound of the office phone makes me want to smash it against the wall, or someone's head. I wonder whether Guyan ever feels the same?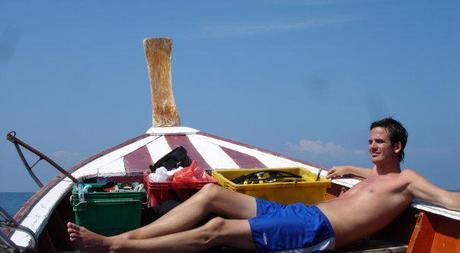 Hard at work
It's hard to tell in such a brief interview, but from a few quick fire questions, I imagine Guyan to be a little indecisive, maybe even a little grouchy, a big lover of lists and a bit of a daydreamer. I could be completely wrong in assuming all this but what I do know for certain is that he is totally right about the tiger balm.
Q: Where in the world are you now?
Sitting in my office in rainy old London – it's not all beaches and backpacks for me. But I am day-dreaming of my upcoming trip to Cambodia for Rough Guide.
Q: What's your favorite South East Asian dish?
Good question, with far too many answers. For me it's the best part of the world for food. My most memorable eating experiences in the region include rendang in Sumatra, pho in Saigon, fish head curry or Hainanese chicken rice in Singapore, laarb in Laos, the list could go on and on.
Q: What is your biggest tip for travellers in South East Asia?
Tiger balm (available in every shop in the region) is the best itch-relieving cure for mosquito bites in the world.
Q: Where is your all-time favorite place in the world?
It used to be Thong Nai Pan in northern Kho Phangan, but over development means it's lost its magic in the past few years. I have to say I loved Colombia for the people and general mayhem to be found there. But, honestly, I've yet to find anywhere to make me want to move away from London…
Q: What is the most shocking thing you have seen on your travels?
The Killing Fields in Phnom Penh are very grim. When I visited in 2002 there were still children's clothes and bones in the earth and blood stains on a tree where they used to break the kids' skulls. That'll stay with me forever. From a tourist perspective it's a must see sight, but sadly it overshadows many people's experience of the Cambodian capital, which is otherwise a charming and magical town.
Q: What's the most challenging part of being a Rough Guides writer?
While I generally love solo travel, guidebook-writing can be very lonely, especially when you're way off the beaten path. There were times in Sumatra (for Lonely Planet) when I didn't see a Western face or speak to any English speakers for fortnights at a time. In so many ways it was a wonderful experience, but I did have to really learn to value my own company.
- End -
I hope you've all found my interview with a Rough Guides writer interesting, and now as it turns out, I have yet another question for Guyan: what's your favorite tiger balm? The red one or the white one?
You can follow Guyan on Twitter @guyanmitra
Read more about South East Asia travel here at The Smart Girl's Travel Guide.