Since I'm living in Italy, it's obvious that I also read italian blogs. The fashion bloggers here are mostly personal style bloggers but there are some that point on fashion AND writing. For me who have a degree in italian language and culture, these ones are the most interesting because they enable me to keep up with my italian and to learn more about this country and its people. One blogger particularly catched my attention when it comes to fashion and writing skills : my friend and blogger

Greta Miliani

of

In Moda Veritas

.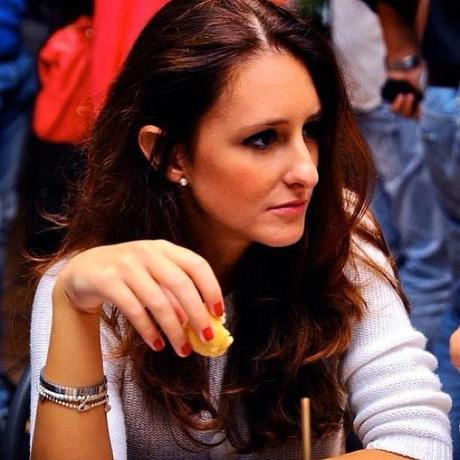 Name : Greta Miliani Blog :

In Moda Veritas

 Contact :

Facebook

/

Twitter

/

Blog

/

Bloglovin / Instagram
I love Greta because she is witty, funny, cultured and writes very well. She knows much more than me in fashion so reading her blog is always enriching, and that's this very point, I think, that makes her site interesting. When you finished reading a post by her you have learned something, had a good chat with her and spent a good time especially on Thursdays which is the day of her Hot or Not section where she selects the best and the worst outfits she has seen on personal style bloggers. Greta also really cares about her readers and it shows both in her articles and in the comments and last thing I love Greta's blog because it really reflects who she is in real life.


Since blogging varies according to the place where you live, I asked her some questions about blogging in Italy, so here the first part of her interview :


 So, Greta introduce yourself to our readers please.
My name is Greta Miliani, I am 24, and I am currently living at Pisa. I am graduating in Comunications, Media and Journalism and last year I got a Master in Comunications and Fashion journalism. I also have a fashion blog, In Moda Veritas. Studying and blogging sometimes bring me to leave my town and go all around Italy, but most of the time you can find me at Florence, Rome and Milan. These trips gave me the possibility to open my mind and to discover environments and mentalities completely different compared to the ones I was used to before, and I think that these experiences have enriched me.
You know I'm French and that I'm discovering blogging in Italy, that is why I would like to ask you : how do you consider blogging in your country ?
With some bitterness. Italy towards blogging, compared to other countries is the last one in Europe, but also in the rest of the world. I don't know why but in Italy we always arrive after. Maybe because we do things better..after, but unfortunately we never arrive before...we always wait for the others to try out, and after, if it works for them we also give it a try. This matter can also be applied to blogging. In the USA fashion blogs are existing since more than 10 years, in Italy they began to be considered only two years ago. I think we're still at the embryo stage. I believe  there is still so much to do, to try out and discover.
I share your opinion when you say that blogging in Italy is still at the embryo stage. With the evolution of blogging, do you believe that having a personal style blogs is still valid ?
I don't want to be controversial, there's a saying which said that " the world is beautiful because diverse", but I've always found outfit blogs (or personal style blogs call them lilke you want) limited. I always try to reason with two opinions in mind : me as a blogger and me as a reader. From time to time seeing an outfit is  pleasant, it's something light that offers you a lot of ideas, both to understand how fashion is interpreted, seen in the world and to get some inspiration for your own wardrobe. But I am not interested in seeing how someone is dressed every damn day. Besides if the clothes worn by the blogger are inaccessible because of their price, on the moment one look can make me dream, but in the end I'll see this blogger as inacessible as well. And here is how the pleasure to look at an outfit is completely lost and leave place to insatisfaction. Therefore as a blogger I would never propose only outfits because I know how I think as a reader and I wouldn't want my readers to be in my state.
You're one of the first blogger I hear saying that you're trying to think as a reader, this is something really rare. What  advises would you give to other bloggers to have a "conversation" with their readers ?
I always assume that if a blogger becomes famous or have enough fame that brings him/her to travel, to have collaborations with big brands...in brief if he/she has the possibility to realize his/her dreams, and satisfy his/her whims, it's all thanks to the readers. Obviously, it is also thanks to the blogger : if he/she is successful it means that the content that is proposed is liked, but nevertheless if a blog is able to stand out it is because there are people who read it, believe in it by following it. That is why I always try to involve my readers in all the posts I write, asking them feedback, trying to answer their questions and in some case I involve them even more, asking them for help I make them part of the blog. I don't look for and don't want a passive following in which my readers would only say "wonderful" or "what the hell are you doing ?". I want a real interaction, otherwise what sense would have a blog ? I didn't open it to write for myself. I did it to comunicate to the world my opinion on some subjects and to have feedback on my ideas, because not always, are they a priori right. Perhaps readers help you grow up by opening your eyes and making you realize that one thing you were convinced of, or perhaps their point of view have more shades and you didn't see some of them. This relation with readers makes you grow both as a blogger, and in some case, also as a person. The affection I receive from my readers is often unexpected and warm up my heart in a way I could have never imagined.  
So the reader is sacred for you. Few times ago I wrote a piece on

Franca Sozzani

, the Editor-In-Chief of Vogue Italia. Eventhough digital and editorial are two different worlds, what do you think about the way readers are treated by magazines ?
I'll start by saying (it can seem strange since "I'm born" on the internet) that I totally revere printed magazines, but they have a huge limit in their relationships with their readers : while on the internet you can have a real time exchange, with prints for obvious reasons it is not possible. As a consequence readers are passive : they can only read the news, internalize them, they can agree more or less with what they read, but they can hardly debate. It's true that prints are trying to get around the problem ( for example with their letters to the editor or giving phone numbers and mails to go into a subject), but it will never have the added value that the internet has. Online a reader can immediately answer and give life to a debate. It has a voice, it is not passive. This can also be incovenient for journalists, but here the rule that goes for blogs goes for them too. If a magazine is selling that means that there are people who buy it, so I find that it is something due to give the possibility to the readers to give their point of view on a topic, without treating them like "stupid" because they are only readers and not "writers". Comunication is good when it is bidirectional : both must speak and listen.
 Now that we are speaking about magazines, what are you favorite ones ?
Since years I've been reading and leafing through a lot of magazines, forcing my mom to suscribe to them. I began with Gioia and Grazia, then I changed for Glamour, Vogue and Elle. I still have my subscription for Elle because it is the magazine that is the closest to what I am. I find it complete and a great fit for the everyday woman, a little bit like Grazia. Vogue has the charm that seduces a certain type of reader : it is invicible as a fashion and photography publication, but for a public who is already into fashion. About Glamour, I appreciate its fresh and young approach. 
Concerning other magazines, for example Marie Claire and Vanity Fair, I read their digital versions. And about "new entry", I am curious about L'Officiel, but I didn't have the occasion to go through it yet.Then I adore the foreigner versions, especially Vogue America and Elle France and UK. I always buy them when I travel. This is one of my ritual.


Greta and I really enjoy chatting which means that you will read the second part of this interview in the next weeks, nonetheless you can comment and give your thoughts about blogging in your country if you're a blogger and if not your point of view is also interesting ! So don't hesitate will you ?