Life Coaching > Interpersonal Intelligence >
Besides intrapersonal intelligence, interpersonal intelligence, part of life coaching skills, plays vital role in developing fascinating human relationships. It helps in persuading others, show empathy, portray 
assertiveness
, and resolve conflicts to achieve common collaborative goals. There are several training courses available to master the art of interpersonal intelligence. Developing interpersonal intelligence requires patience, perseverance and people minded attitude. Infact, it has become one of the key selection criteria in business, professional and management job interviews in several organizations. Interpersonal intelligence is broadly divided into interpersonal characteristics and interpersonal competencies.
Interpersonal Characteristics
Being aware of social behavior, some of the common traits of people such as proactive and reactive behavior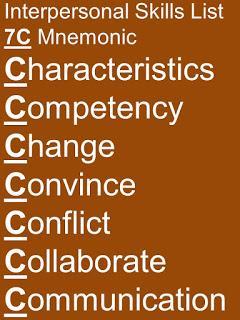 List of Interpersonal Skills
with Examples
Interpersonal Competencies
It includes Interpersonal communication, Interpersonal Convince
Interpersonal Convince (Persuasion and empathy)
: It is the set of persuasion and negotiation techniques you possess to convince someone. You can do this by using persuasive words, rapport building statements while communicating.
Interpersonal Communication
: Broadly interpersonal communication can be divided into verbal and non-verbal communication. Effective verbal communication is about listening, questioning and expressing yourself. for example, to know how to give/receive compliments, 
effective feedback
, ability to say, "No" politely, use of eloquent language such as figure of speech, delivering persuasive presentations with excellent speech prosody, both verbal and vocal, effective attention grabbers such as use of anecdotes, interesting self introductions, and good transitional words. It also includes avoiding common verbal communication barriers such as eliminating mother tongue influence (MTI), verbal speech fillers, negative words, judgmental phrases, redundant statements, and generalizations   Non-verbal communication include effective use of English grammar, structure and content words,
Interpersonal Conflict: 
Once you are aware of people behavior, either you manage them, or you try to change them by understanding common interpersonal conflicts and resolve them.
Interpersonal Collaboration
: It is about understanding the team, and being aware of and handling team dynamics.
Interpersonal Change
: Changing people around you through influence, persuasion and negotiation or even through authority and power.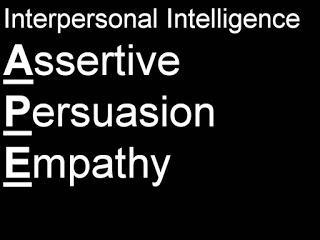 Interpersonal Intelligence Examples List
2. Advantages of Interpersonal Skills
Facilitates to give and receive feedback effectively and efficiently
Achieve team goals in workplace
3. Different Types of Interpersonal Intelligence
List of interpersonal abilities is summarized using APE Mnemonic. You can use this as an assessment tool or test to see where you stand:
Assertiveness
Persuasion
Empathy
3.1 Assertiveness
Being assertive is all about "I'm OK and You're OK". Assertiveness is about showing that you are right while others' are right. Ability to say no politely, providing feedback to achieve team goals are few examples of assertiveness at work. It also includes learning to make good excuses and say no politely, 
3.1.1 Interpersonal Conflict
Almost everybody experience conflicts in our life roles. Conflict with relatives, parents and spouse, children, friends and society. Resolving interpersonal conflict is a skill that requires conscious effort. In many instances, interpersonal conflicts happen while achieving team goals and it can be resolved using variety of conflict management techniques. When there is an interpersonal conflict, we try to either persuade, empathize or be assertive to resolve the conflict.
3.2 Persuasion
To be persuasive you have to build good rapport with people, enhance your verbal and non verbal communication skills. Be it at work or personal life, the art of persuasion is a special skill to lead interesting human relationships. Persuasion is one of the interpersonal communication techniques besides empathy and assertiveness. Levels of interpersonal communication can be broadly divided in to green, amber and red. green is when communication goes smooth, amber is little argumentative and red is fight.
3.3 Empathy
Developing empathy is one of the vital competencies to develop fascinating human relationships. Broadly, people possess three types of behavior: Sympathy, Empathy and Apathy. Using empathy statements can build interesting human relationships.
4. Importance of Interpersonal Skills
Why interpersonal skills is important? There are several jobs that demands interpersonal skills on priority such as sales, customer service and people counselling, social work, management and leadership positions.
5. Everyday Examples of Interpersonal 
We demonstrate exceptional interpersonal skills in our daily life subconsciously. When we talk to our spouses, negotiate with shopkeepers, empathize with friends and relatives are few common examples of interpersonal intelligence.
So What?
Good Interpersonal skills is one of the essentials of self-help besides intrapersonal skills. By enhancing your intrapersonal and interpersonal skills, you will able to persuade and empathize yourself and others.
Related Blog Posts
Difference between Intrapersonal and Interpersonal Relationships
List of Life Coaching Skills using 4S Mnemonic: Self, Social, Sustainable, Spiritual
Similar Blog Posts from Neighbors 
The Cancer of 5Cs - by Jyotika Rajput
Love More, Expect Still - by Shweta Dave