The typical construction site is filled with dirt, materials, tools, storage, and a variety of vehicles. Some things will never change, but some elements of construction have changed. Internet-connected gadgets can be found where things are being built, just as they'll be all over completed buildings. Here are some examples of gadgets many construction companies are using.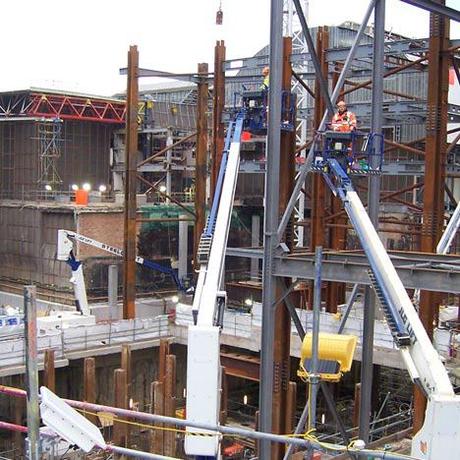 Tracking Systems
A common form of equipment that is connected to the Web is a fleet tracking system. Workers in many heavy equipment jobs use these to track their time and get directions, while employers can easily find the location, speed, and direction of vehicles on a map using GPS. Fleet tracking systems make it harder for vehicles to be stolen or to be used during off times.
Other GPS-connected devices are used for individual pieces of equipment, such as compressors and skid loaders. Through daily use and storage, expensive tools can be tracked all the time. If something were to go wrong, a manager would know just by checking their email.
Rugged Computers
Lots of construction site managers and workers now track their progress using a computer. Highway construction requires workers to constantly be mobile, so mobile technologies with Wi-Fi come in very handy. Crews in the field can constantly stay in touch, while their efforts can be tracked from the main office. From supervisors to operators of remote machines, all hands can be up-to-date on the situation.
Most construction site computers are small and built to take impact, meaning even vibrations won't affect the hard drive. The ruggedness and long-lasting batteries ensure that if there are scheduling or design changes, the right people will know about it.
Relaying the Message
Construction is heavily reliant on measurements. There are devices that can take measurements on the jobsite, and integrate these with positioning data. Not only do many of them store vast quantities of data, but many also relay this data to offices. Data synchronization and email are capabilities of some types of gadgets used on construction sites.
There are also devices that concentrate on communications alone, or manage the links between different kinds of construction equipment. These can serve as independent monitoring systems that can be used with various tools and devices. Small, Internet-connected, hand-held computers, however, are becoming extremely common in construction. Integrated software can manage scheduling, spreadsheets, and entire projects.
Devices with cameras also allow for a direct view of conditions on the site. If a problem occurs, a contractor can take a picture and relay it to the office. Oftentimes, a remedy can be found quickly if a part breaks down. Construction is often filled with problems and delays, but a constant Web-connection helps to streamline workflow and productivity, and to keep track of valuable equipment and materials.
Author: Guest post written by CJ, a technology enthusiast who loves to write about how technology applies to everything from shopping to heavy equipment jobs.
The net's # one SEOpressor equivalent wordpress plugin.