Hi All,
As always I am starting January with an interior design post because it is the time of year when I have a look at how my home is working for me. I have spent years talking you through my interior design passions; from patterns I love through to trying to find the perfect sofa. However today's post is about one part of my homes interior that I have got right and that is the small touches.
So here is how I have managed to mix in my love of antiques, modern design and collectables – I do confess I am a little bit of a horder.
Always look at the light
I have a thing about making the most out of the sheer amount of natural light I have in my home. I am lucky enough to have panoramic style windows in my living room and kitchen, which are needed due to the size, but they bring about a beautiful array of shapes and shadows in my home.
So to make the most from this source of light I place ornaments and other lighting strategically to enhance it – like this crystal oyster that was left to me by someone I miss very much! Having this in the window spreads the light and colours around the room.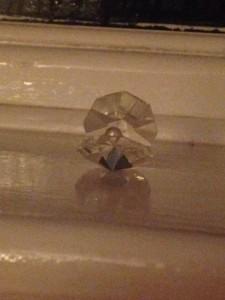 Now my lupus does not fair well with artificial light and too anyone out there that has a similar illness I urge you to get a natural light lamp!!! So when it gets dark and I want to avoid the earth shattering headaches I opt for candles and low level lighting like this star lamp! Placing them in areas where they highlight other small items such as this Stone Roses mixed with birds sketch!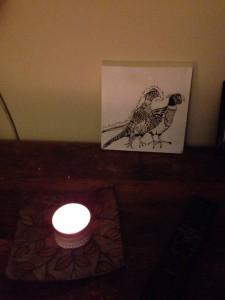 Art is essential
Of course I would say this but remember that art takes many different forms so my ideal may be completely different to yours and that is ok. I have literally run out of wall space now! I see my home as a miniature gallery, somewhere that I can display my work but also art that makes me feel something! I love a mixture of vintage posters, traditional paintings and fun prints!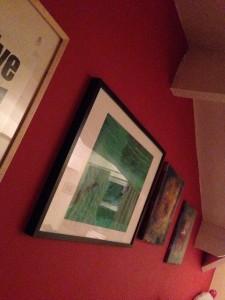 Anyway this tip is to add some artwork into your home, whatever size, medium or artist you choose! Display them with pride as they are an extension of your personality!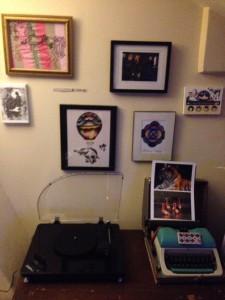 Don't be afraid to be colourful
If you don't know by now I am a huge fan if color and pattern I must mention that at least once a week. So of course my home has hints of retro, vintage and handmade patterns and bright colours throughout. I will be the first to admit it that my home can be quite childish in many ways, but most of the interior designers I enjoy are the bright ones such as Orla Kiely.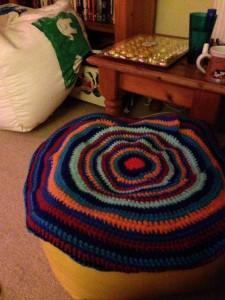 Finally don't be afraid to show your true self!
One thing I don't think I could do with my interiors is have them plain, it's just not in my nature. Minimalism just doesn't work for me! So the final thing I will say is put a mask on, if you must, when your at work or out with friends but always be yourself at home!