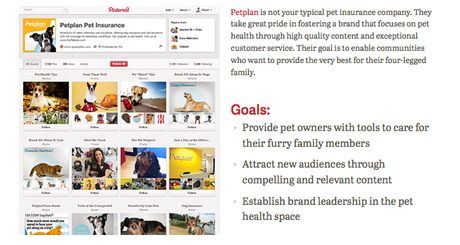 January 17, 2013
0

Email This Post

Print This Post
Interested in Pinterest for Business Use?
Following in the footsteps of Facebook, Twitter and Google+, social bookmarking site Pinterest has unveiled pages exclusively for business use. If you're not familiar with Pinterest, it's a content sharing service that allows members to "pin" images, videos and other objects to their "pinboard." According to Pinterest, the website's goal is to "connect everyone in the world through the 'things' they find interesting."
Pinterest's new business accounts look the same as personal pages. If your company is new to Pinterest, you can sign up for a business account:
Click on New to Pinterest? Join as a business. This will bring you to a form that also includes a space to upload a profile image.
If your business has an existing account, you can convert it from a personal account to a business:
Click on "Convert your existing account"
Login to your account
Complete the online form, including selecting a custom URL for your page.
Tips from Pinterest
Pinterest offers these tips for getting the most out of your business account:

Tell your story. Inspire pinners and show them what you're all about with a great profile. Your profile is your identity on Pinterest, so pick a good picture that expresses who you are and add a short, thoughtful description.
Verify your website. When you verify your website, people will know it's been confirmed by Pinterest, and they'll see a little checkmark next to it. You can verify right from your Settings page.
Create inspiring boards. The best boards have beautiful images that draw people in and/or cover a particular topic, like travel or recipes.
Build a community. Instead of pinning everything yourself, invite others to pin with you. Ask questions to see what people are thinking or to get feedback on a pin. Promote your pins by linking your website, Facebook and Twitter accounts to your Pinterest profile.

Get the Pin It button to make your products discoverable, to show off your content, and to encourage people to share on Pinterest.