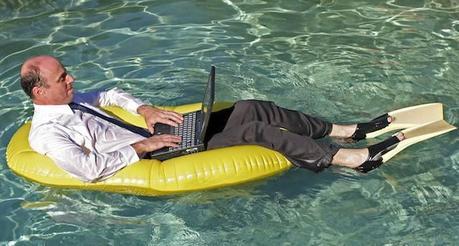 Integrated Marketing Keeps Pool Company Afloat
Not long ago, River Pools and Spas (RPS) of Warsaw, Virginia, was struggling to compete. Like other small businesses at the time, RPS relied heavily on outbound marketing such as radio and cable TV advertising, yellow pages, and direct mail. It was also dabbling in PPC, with costly and disappointing results.
Leads dried up while acquisition costs soared. Customer engagement with RPS's dull, brochure-like website was virtually non-existent, and there was nary a blog post, video or feedback form anywhere to be found.
Then came the epiphany.
A rapid rise in customer calls for information about pool types, construction materials, options/add-ons and maintenance confirmed an emerging trend owners Marcus Sheridan and Jason Hughes had been hearing about: education, not hard-sell, was the new key to success. Selling by not selling. Rather, by creating and freely sharing informative, educational information to aid customers in the pool buying process.
"If you become the first person to give, you will be among the first to get." — River Pools and Spas co-owner, Marcus Sheridan on his company's strategic shift to content marketing.
Shift to a Share-First Strategy
Enthusiastically embracing the notion, Sheridan and Hughes completely retooled their business model, and, through what later became 'content marketing,' set out to make RPS the pool/spa industry thought leader, something they achieved in spades, according to HubSpot (starting on p. 19 of this online Slideshare case study).
Not recognizing the shift in consumer purchase behavior, many RPS competitors foundered and failed, even as RPS's move to a share-first strategy led to incredible sales and marketing achievements that included:
The most inground swimming pools installed in the U.S.
Highest-ever close rate during first in-home sales call
70% reduction in ad spend
400% increase in web traffic and leads
Accolades and free coverage in regional and national press
The Mix That Makes the Magic Happen
Interactive home page. After receiving a friendly video welcome, visitors can:
Request a free DVD. Get a no-obligation quote or one-click access to Pool info 101.
See money-saving discounts and specials.
Reader-centric blog. The blog went from zero traffic to the industry's most popular in less than two years.
Educational YouTube channel. With 50+ how-to videos and 640+ followers.
Integrated social media. Including an active Twitter presence and social-friendly mix of tips, testimonials and company anecdotes.
An economical balance between PPC and organic SEO. RPS's page titles, meta tags, copy and ads are all optimized for high-performing search terms.
Pool 101 video FAQ. Each page also features commentary, photos and links to related articles; apply these tips for creating your own compelling video content or video FAQ.
Video testimonials. Authentic, first-person accounts, brilliantly segmented by state in RPS's three-state service area (VA, MD, District of Columbia).