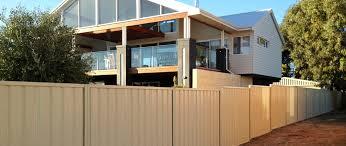 If you have been looking for fencing materials, you have most probably noticed that there is more Colorbond fencing in the market than there used to be before in Wanneroo. With plenty of materials to select from, why is it that Colorbond is so famous? This is an obvious question that is going to come to your mind. There are in fact many reasons why people living in Wanneroo are
installing Colorbond fencing
. First, let us have a look at them one by one: 
Colorbond fencing is is highly durable and is not going to rust, rot or decay. It can also provide a great barrier against bushfires, as per the CSIRO.
This kind of fencing comes in a wide range of colours. So, you can easily find a color that matches or complements your home. The colours can even go with a Colorbond roofing, making it the primary choice for all those who are installing or have Colorbond roofs.
A timber fence undoubtedly looks good but needs to be stained or repainted in a periodic manner. But  if its Colorbond fencing, you just need to hose it down once in a while.
The installation part is also easy. People wanting to install it by their own can do it without any hassle.
Its costing is same like that of timber fencing but there is no painting cost involved. Installation is cheaper as well. 
Installing Colorbond fencing
is not a hectic affair. This is because the rails, posts and fencing panels are basically designed to fit in a neat way together. The tools needed to build a fence include a cordless drill & angle grinder with metal cutting attachment. For the installation job, you'll require a post hole digger, string line and a level. You'll even need to pour concrete into post holes while the posts are in place. 
Your
supplier of Colorbond fencing
may give you more tips for installation, but generally: 
Dig the first & last post holes at first to a depth of 600mm.
Run the string line between the two holes.
Lay down the rails with a 5mm gap in between.
Install the end posts. Do this by using broken pavers or bricks as these are going to help hold them in place.
For the internal posts, you will require to screw the two posts together before putting them in place.
After the posts are installed in their respective places, star to install the top and bottom rails.
Once you install the rails, unscrew one end of every top rail so that you can slide the fence panels into the place.
The toughest part of installing fence is to make sure that it is straight & level. There are a few tricks of doing this and in that case you may want to consider hiring a
Colorbond fencing contractor in Wanneroo
so that it looks good when completed.