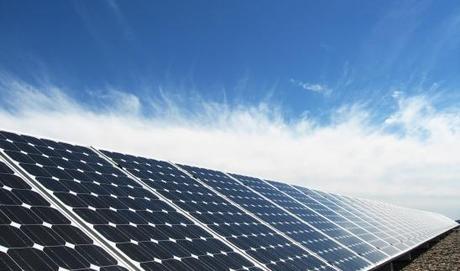 I attended a seminar on Building Efficiency and Renewable Energy a few weeks ago and was impressed with how many advances have been made in recent years on both fronts. Commercial buildings, churches and schools are showing more interest not only because of the environmental impact but also because of the direct impact on their bottom line. Renewable energy use in Minnesota has increased from 2% in 1990 to 15% at present.
One reason for the growth in solar electric systems is Net-Metering, where the power company is required by state law to pay the customer for electricity generated by a system of solar panels. 
Sunshine is free! This means your solar electric system will not only SAVE you money on your energy costs... it will also MAKE you money when you sell the solar energy you generate but don't use to the energy company.
Sounds great, but systems are expensive...
Enter some solar energy system incentives...
The federal government is providing tax incentives... currently 30% tax credit through 2017 and 10% thereafter in addition to depreciation
Xcel Energy is offering rebates for solar electric systems... why? the state requires them to invest in clean energy to compensate for their storage of nuclear waste
But none of that makes any difference if you can't afford to pay for it in the first place...
Enter a financing program for a solar electric system with no out-of-pocket cost for the system... just an application fee of $250 and a commercial energy audit of less than $300...
...for a system that puts money in your pocket from day one!
At the seminar we got information about a financing program for solar electric systems through Innovative Power Systems, a company that has been installing solar systems since 1991 and has installed more solar energy systems by far than any other contractor in the state. The information we got at that time said their financing partner would provide all the up-front capital necessary to install the system, enabling it to be cashflow positive from day one. (sounds good) Full ownership of the system and all ongoing profits would be turned over to you after 20 years. (not so good, even though life expectancy of the system is 30-40 years)
Just this week I heard that their financing program got much better!!!  The program they are now offering provides that full ownership of the system and ongoing profits are turned over to you after only 6 years!!!
Sound too good to be true? It's an amazing opportunity to generate positive cash flow of about $1,000 per year for the first 6 years, then about $5,000 a year thereafter with a system that costs you virtually nothing. All this, and you also help reduce your carbon footprint and the health of the planet by generating electricity with no emissions.
I learned about this from my cousin who is the electrical engineer and master electrician for Innovative Power Systems. He was so excited about it he could hardly talk straight when he told me about it this week! This special financing opportunity is for commercial size systems only (he feels it is an especially good fit for churches)... but Xcel Energy rebates and tax incentives are available for systems of any size, including houses.
Regardless of size and whether you plan to finance a system or pay for it yourself, rebate applications are complex and need the help of an expert in solar design and installation to complete. Xcel Energy only provides a limited number of rebates each year, and applications should be submitted before the end of December for next year's funding cycle.