It seems as if the weather and temp is changing by the hour, here in the DC area.  I'm sure it's been that way across the country (and world).  Last week I was freezing with temps in the teens and twenties and snow.  Today and yesterday, it feels like spring with temps in the 70's.  Yesterday I was wearing a heavy winter coat and barely needed it when I left the office at 5pm.  I realized that I need to seriously work on my layering skills.  Some fashionistas seems to do this in an effortless way.  They pair layers and textures and it looks amazing.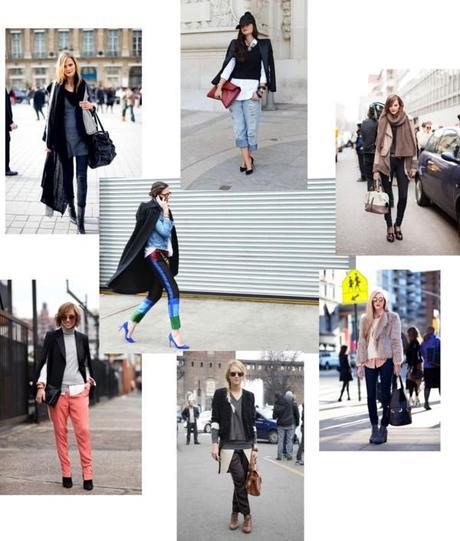 Layering - for changing weather by Real Girl Runway.  Click above to view the photos.
In almost every case, the layers are very thin.  This is the trick to keep from looking frumpy or bulky.  Also, using items of different length, keeps you from having too may layers stopping in one area, like your hips or your tummy.  All of the photos I chose today show ladies wearing pants but layering can be done with a skirt or dress, just as well.  The same rules apply.
My favorite look from the ones above is the one in the center.  J.Crew Style Director, Jenna Lyons, is a style icon.  She has a casual but pulled together style that always look chic and comfortable at the same time.  She's inspired me to try a similar look with items in my own closet.
Here is a link to a post on Refinery 29 with some great tips about layering.  I love that they address stylish but clever ways to layer some of your spring items with winter items.  I'm a fan of a sweater over a dress for winter. I'm not big on skirts over pants but you could try a similar twist with a skirt over leggings.  I personally don't own any dressy shorts, so the shorts over tights suggestion is also out for me.  They also don't work for me because I don't think shorts are office appropriate unless you work in a casual environment.
I'm going to try out some of the combos from my inspiration photos.  Are you layering during this weather?