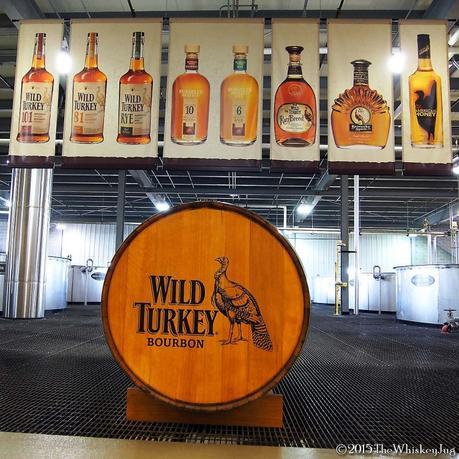 Yesterday during part 1 of the Wild Turkey Distillery tour we took a look at the process of making Wild Turkey from scratch. We started with the course ground grain through open-air fermentation and distillation. We had just left the control room and a were about to enter the sensory lab which is exactly where we're picking this tour up for part 2. So pour yourself a glass, relax and enjoy.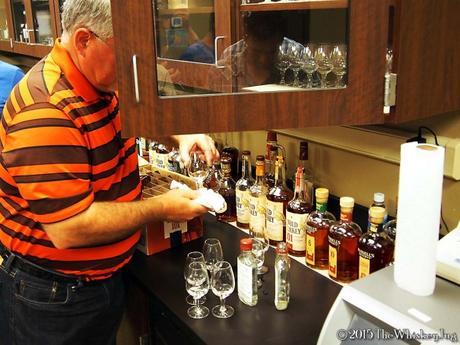 The sensory lab in the Wild Turkey Distillery is a WT fan's dream come true. Expressions covering a vast number of years and a bottled WT line up that will make you drool. This is where Jimmy, Eddie and a select group of others come to sit and sip on new make runs, bottling runs and taste test new products. This is where the rubber hits the road and they find out if what they've been doing has turned out alright.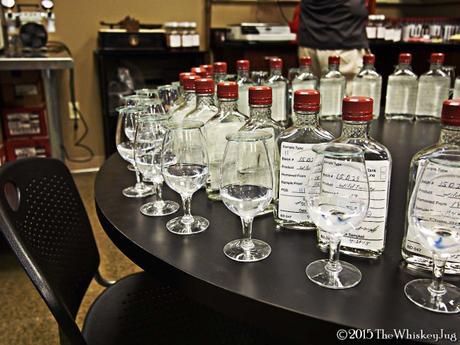 After a small taste and smell of some recent new make (spit out of course, because swallowing would have been against the law) we left the sensory lab and headed towards the bus which was taking us to their new bottling facility, but first we had to pass a display containing some magnificent expressions of Wild Turkey from over the years. Here Eddie talked about some of the different expressions of Wild Turkey that had come out over the years, including the 17 yr that went to Japan, and I got a chance to chat with him a bit about the recent Wild Turkey 101 Tasting we did in SoCal. We specifically chatted about the RR10, 12 yr split label and '76 decanter that we had tried and were in the display as well as the infamous Gold Foil bottle. From there it was off to the bottling line.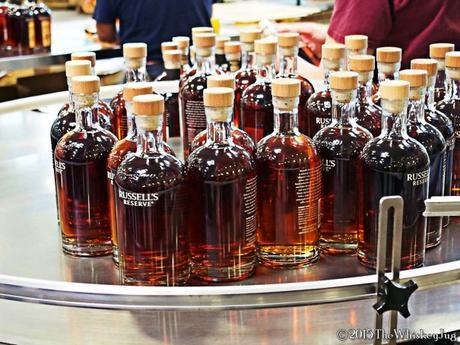 The bottling line is a fairly new, state-of-the-art facility that not only bottles WT, but also bottles and boxes Skyy Vodka. We sat and watched the Skyy line speed by at what seemed like warp speed compared to the hand filling and hand labeling Russel's Reserve line. On that line they were bottling a store bought barrel and it was interesting to see these freshly filled, screen printed bottles, without its paper label. It was like seeing a co-worker at the grocery store on a Saturday, kind of weird.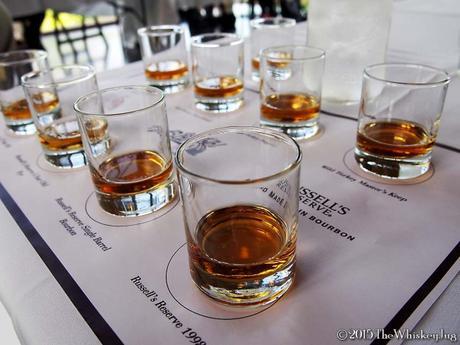 We departed the bottling line and it's naked bottles and headed back to the visitors center. We ascended the big ramp to the Angel's Lookout and were presented with a tasting of every whiskey Wild Turkey currently makes (minus the 81s) along with the new Master's Keep, Russell's Reserve 1998 and single barrel RR rye. Jimmy and Eddie lead the tasting and they were all fantastic. Heck, everything about that day so far had been fantastic, but next up was the main event, the thing we had all been waiting for and talking about since gathering in the hotel lobby earlier that morning. The rickhouse.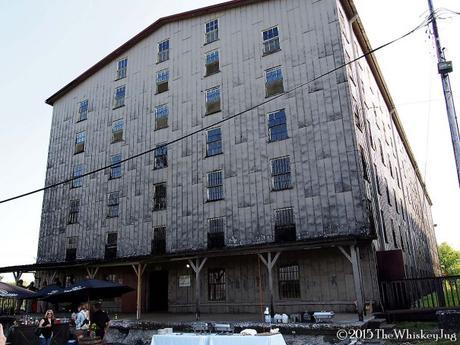 I said it when I went to the George Dickel Distillery and it held even more true here at the open windowed warehouse at the Wild Turkey Distillery. There is nothing on this planet like the smell of aging whiskey. The powerful aroma flooded the bus the second the doors were opened and an enormous grin spread across my face the second that smell registered in my brain. I stepped off the bus, took a deep satisfying sniff and held it in my lungs for a few beats before slowly letting it out. I want my house to smell like this, I need a "Bourbon Rickhouse" Glade plug-in.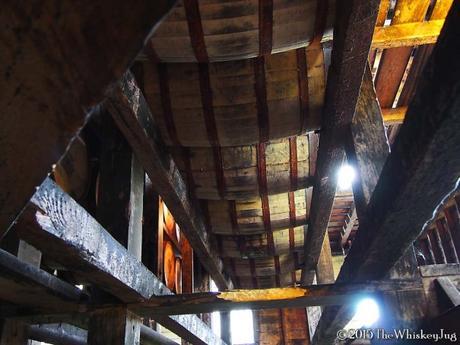 It seemed like everyone else was in agreement because while we walked up the stairs to the warehouse everyone saying things like "I want to live here", "I want my bedroom to smell like this", etc. and it was all true. We were a group of booze nerds on a tour of hollowed ground and we were all enthralled. Inside of the warehouse Eddie popped the bung on a few barrels and, using a thief, poured a bit of Wild Turkey straight from the barrel into our eagerly awaiting glasses. It was magnificent.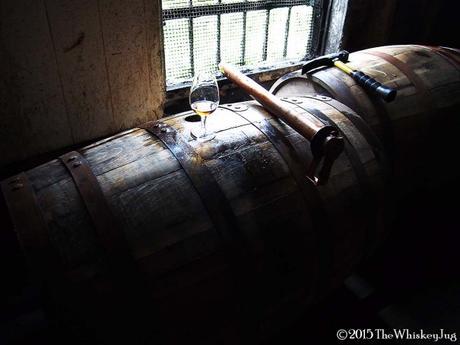 The cumulative experience of the day, the people I was with, the location I was in, who was pouring the whiskey and where it came from all resulted in me tasting the best whiskey I have ever had in my entire life. Would I say that if it was filtered, bottled and I was sipping at home? Maybe not, but there in the warehouse, surrounded by sleeping barrels, fellow booze nerds; with the soundtrack of Eddie talking us through how to read a WT barrel head, it created a sensory experience so amazing and unforgettable that it will be tough to ever top. This is going on the memory shelf as one of the best moments in my short snippet of time on this little blue marble.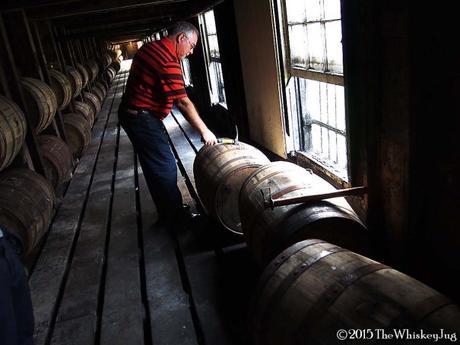 We tasted 3 barrels, explored the differences between them and got to witness the magic of the barrel first hand. Nothing rams home the individuality of a barrel quite like tasting 2 whiskeys of the same age, that were sitting near each other, side by side and noticing the differences. Outside of here they may have been subtle, but in here they were miles apart. It was magical and none of us wanted it to end, but supper was ready so we departed the warehouse, but we didn't go far. The tour culminated in an open air dinner served in the shadow of the warehouse with Jimmy and Eddie.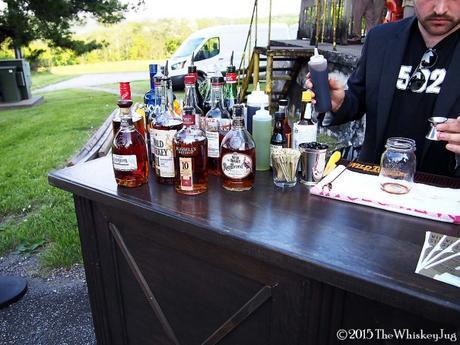 Jimmy and I traded short stories about prohibition and pre-pro bourbons and ryes we've tried, but mostly I just listened to everything he had to say. The greatest story involved him, Booker, Elmer, Jim and Parker all hanging out, drinking each other's whiskey and discussing what everyone was up to. To hear how collaborative the entire bourbon community is was incredible and ended up chatting a bit about the Heaven Hill fire of '96 and the Unity bourbon (which we saw at Independent Stave). We ended the evening on the patio at the visitors center with a barrel stave fire and glasses of Wild Turkey. I can't think of a better end to that day.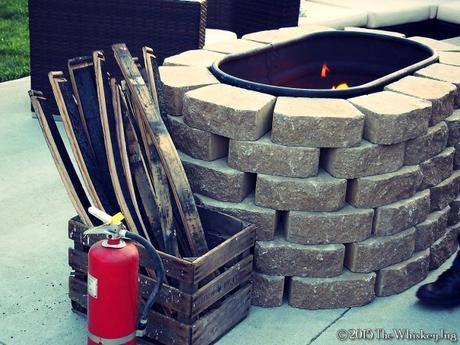 This was a once-in-a-lifetime opportunity to spend the day with Jimmy and Eddie. To experience the inner workings of the Wild Turkey Distillery and see how one of my favorite whiskeys is made. I can't thank Wild Turkey & Campari enough for inviting me out and I hope you enjoyed reading about it. I'll be posting up some shorter photo tours of the Vendome Copperworks and Independent Stave barrel company in the coming weeks, but until then… Cheers!