Controversy continues over Evgeny Nikitin's tattoo.
by
Paul J. Pelkonen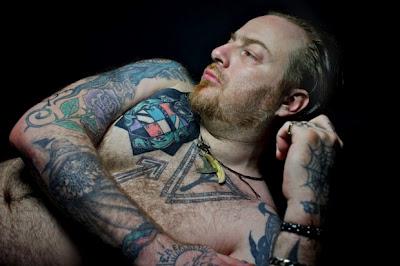 Evgeny Nikitin: the completed, controversial tattoo is to the left of his chin.
The new Bayreuth production of
Der Fliegende Holländer
is open but the story of Russian bass Evegny Nikitin and his unfortunate choice of tattoo art refuses to die.
The Wagner festival made July headlines in Germany when bass
Evgeny Nikitin made a hasty exit
after it was revealed that the singer's chest tattoo, an elaborate black heraldic crest, was an attempt to cover up a large swastika.
Mr. Nikitin issued a press statement and was replaced by Korean bass Samuel Youn in the title role of
The
Flying Dutchman
. However, since the Russian singer engaged to sing Klingsor in the Metropolitan Opera's new production of Wagner's final opera
Parsifal
, the tattoo story refuses to die.
In the August 1 edition of the
New York Times
, the ever-reliable
Daniel J. Wakin presents Mr. Nikitin's version of the story
, which is considerably different from the press statements and e-mail interviews that surrounded the first flap over his ink.
"I am an artist, and I came up with it on my own," the burly bass told the Times, through a translator helpfully provided by the Metropolitan Opera. "It's just my fantasy. It's just an eight-pointed star with a shield on it, an ax, a sword crossed with a helmet on top. What is wrong with that?"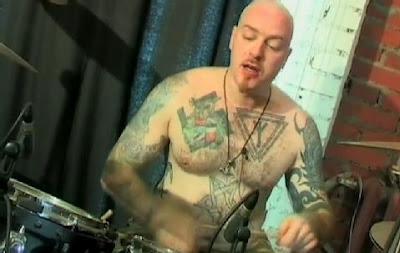 Frame-grab of Mr. Nikitin playing drums in a Russian heavy metal band.
The original version of the tattoo is clearly visible.
The tattoo's early stages came to light in a video of Mr. Nikitin playing drums, bare-chested, in a Russian heavy metal band. 
"It was very hot in the studio", the singer told the
Times.
Mr. Nikitin recounted how he lifted his shirt and showed the altered tattoo to Bayreuth Festival bosses Katharina Wagner and Eva Wagner-Pasquier, themselves fourth-generation descendants of composer Richard Wagner. 
In addition to his musical pursuits, their great grandfather was a vehement anti-Semite. Wagner's essays and polemics (including such works as Judaism in Music) contain much racist rhetoric. 
The Bayreuth Festival, which Wagner founded in 1876, was regarded as the cultural center of Hitler's Germany, and has worked hard to redeem its tarnished image since reopening in 1951.
Met general manager Peter Gelb said that the company will retain Mr. Nikitin, and supports the singer. 
"If he was a Nazi and promoting Nazism, of course we'd have a problem," Mr. Gelb told the
Times
. "From what I understand, and I spoke to him, he's guilty of being naïve and ignorant." He added: "That doesn't disqualify you from singing on the stage of the Met." 
Mr. Nikitin made his Met debut in 2002 in a production of
War and Peace
and has sung there many times in the last decade. 
Classical music radio station WQXR got in on the story too, with a
piece by Brian Wise
on how opera singers cope with covering up other, less offensive examples of skin art. 
Mr. Nikitin, who started getting tattooed in his teens, said that he now regrets being decorated in the first place.