Hi girls,


24 years of Stem Cell Research brings

INITIALISTE

; Kérastase's Advanced Scalp & Hair Concentrate.




Kérastase's intro

duces 

INITIALISTE, a revolutionary hair care pro

duct that works on your hair to make it healthier, stronger and more beautiful everyday.

At the heart of 

INITIALISTE, the Regenerative Complex protects stem cell environment, thus improving the hair quality at its source.This exceptional formula, developed like a skin serum contains powerful active ingredients which optimize the follicular regenerative capacity for beautiful hair that is stronger, shinier and fuller.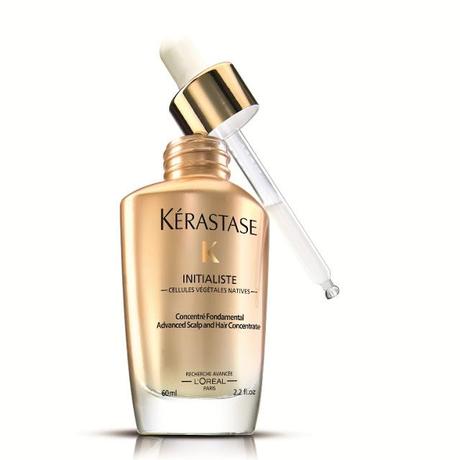 It contains:
1) Mallus omestica: Native plant cells taken from a millenary known apple species which are known for their ability to fight against aging in human tissues and optimize the environment of stem cells, thus maintaining their regenerating power.
2) Aqueous green tea leaf extract: Enriched with polyphenols  to protect the stem cells'  environment from pollution, UV rays and oxidative stress.
3) Glucolipids (SPF 94) that acts on the external hair sheath, where the two stem cells' reservoir are. The lipid component consolidates the structure of the follicle's external sheath. The "Gluco" component is an energy reserve that enhances the cell metabolism and enables the growth of healthy hair. The hair becomes stronger and more resistant to breakage.
4) Ceramides: imitate the natural hair components, and strengthen the resistance and cohesion of the capillary fiber. It improves the hair quality and texture.
With 
INITIALISTE Fundamental Concentrate , 
Kérastase has created a universal beauty ritual for both in-  salon use and at home, to keep hair beautiful for a long time.
How to use the product in four easy steps.
Step 1
: Bathe - Use a shampoo that suits your hair type.
Step 2: Treat - Wash off the shampoo and apply a conditioner/ masque to lock in the natural oils of the scalp.
The new 3rd step: 'Regenerate' - The 
INITIALISTE serum completes the process by adding a new step i.e "Regenerate" to the regime, for stimulating the growth of radiant healthy hair. 
INITIALISTE is a leave -  in product that is applied on towel dried hair, directly on the scalp, just before styling. Take one to two pipettes, depending upon the thickness of the hair and gently massage with finger tips to spread the product evenly across the scalp.
Step 4: Texturize - Apply your regular styling product ( as recommended) to get lustrous beautiful hair.
INITIALISTE (60ml) will be available across all Kerastase Salons. MRP: INR 4,200/-