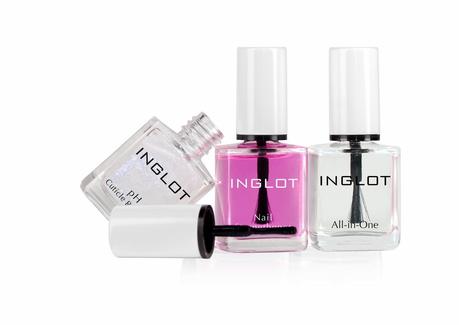 INGLOT is now introducing a new pH Cuticle Remover. ContainingPacific Lagoon Water

 and 

glitterbits the pH Cuticle Remover is both effective and good-looking. The sea water reminalizes, regenerates and restructures both nails and cuticles. Shortly after the application cuticles can be easily removed, leaving the nails free of excessive skin, fresh and radiant. Follow with one of INGLOT's 240 shades of Nail Enamel to give your nails a nice pop of color and top with INGLOT's Fast Drying Top Coat for quicker drying time.
INGLOT COSMETICS LAUNCHES A NAIL STRENGTHENER
INGLOT is now extending its nail treatment line with a brand new water-based treatment. The Nail Strengthener's main 
active ingredientcystinehardens the nails and provides them from splitting, ensuring healthy growth. Furthermore, it reinforces nail resistance and smoothes its surface thoroughly. The product does not provide any coverage or glossy finish, leaving the nails fresh and moisturized instead.
INGLOT INTRODUCES A NEW ALL-IN-ONE NAIL COATING
INGLOT is now launching another outstanding nail treatment. The new All-in-One nail coating can be used as a base coat, helping prevent your nails from staining. As a topcoat it creates a glossy film, protecting nail polish against external damages, such as scratches or chipping. Applied on bare nails the product will work as a hardener and can be used separately, proving subtle transparent finish.Why use multiple products when your nails can gain all these benefits in one?