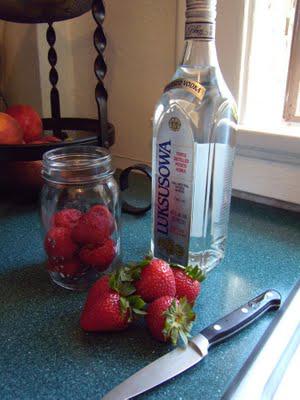 Back in May I was looking through an issue of Bon Appetite Magazine and noticed an article titled "Infuse your Booze.  5 Easy Steps to Better Flavored Vodka".  It immediately grabbed my attention for several reasons.  From a marketing standpoint, I've really been amazed at how flavored vodka has developed into such a large growth industry over the last few years. Here, in this article, was a simple way to make it yourself..but..using all natural, fresh ingredients.
Another reason the article caught my eye was that the photo was very inviting.  The fruit packed in the jars looked so attractive, it was actually something I "wanted" to make.  Also, after I thought about it even more, what a really great little gift this would make!
The article also appealed to me because as a child I remember sitting and watching my Italian relatives making their version of liquor infused fruit.  Needless to say- it brought back some nice, and fun, family memories.  After reading the article I promised myself that I would definitely experiment with some of these "infused booze" treasures over the summer.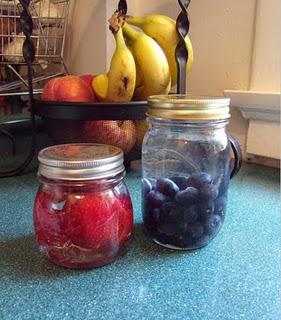 I managed to keep my promise and over the next few months I tried infusing vodka with strawberries and also raspberries.  I also cut up a fresh pineapple and infused it with rum.  Blackberries with vodka was another successful combination.
This recipe idea turned out so nice, I ended up making quite a few jars of the infused liquor and taking them as hostess gifts this summer to various parties and dinners we attended.  They were always greeted with enthusiasm, curiosity, and a big smile!  They were also a welcomed change from the usual bottle of wine.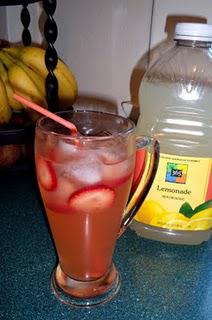 When I made the infused liquor as gifts, I purchased the small decorative glass jars from a local discount shop.  Washed them, and  packed the raw fruit inside the jar. I then poured the liquor into the jar until the fruit was covered up, put the lid on and then tied a nice bow around it. I also attached a copy of the original article from Bon Appetite.
The article provided further instructions to place the jar in the refrigerator for 3 or 4 weeks to infuse the liquor.  When it is ready,  pour off the finished liquor, discard the fruit, and store it back in the refrigerator. It keeps indefinitely.  The article also gives some good tips for additional tasty fruit-liquor combinations to try.
You can use this infused liquor in any drink recipe, in place of a purchased flavored vodka, rum or whatever.  It's also great served with seltzer over ice.  My favorite combination is to mix the strawberry berry vodka with lemonade and seltzer, slicing some fresh strawberries in as garnish.  However you decide to use it, experiment, be creative and have some fun.  Enjoy the rest of your summer!
                                                   ~ diane fergurson