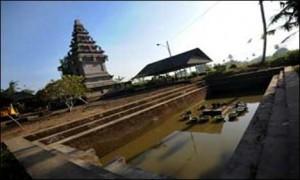 Indonesia's largest Hindu temple discovered
Archaeologists believe that they've discovered the biggest and most archaic Hindu temple ever found in Indonesia.
According to the reports, the construction workers were burrowing a new drainage basin near a Hindu learning center in Denpasar when they stumbled upon the ruins of the temple.
The new discovery was reported to the Bali archaeology office, which then disinterred sizeable foundations of a structure. The newly discovered stone temple is believed to be 500-700 years old.
"We think this is the biggest ancient Hindu temple ever discovered in Bali," the head of excavation team, Wayan Suantika said.
Wayan told the source judging by that similarity of the temple with other similar structures, it likely dates back to the fourteenth century.
"The strengthener layers in between the stone plates were another characteristic usually found in 13th or 14th Century" he said.
Suantika further explained that the quarry was still underway and the team didn't know so far whether enough remains of the temple would be exhumed to let them re-erect the structure.
Speaking about the discovery, owner of the Hindu study center Ida Resi Bujangga Wisnawa Ganda Kusuma said: the workers found the first stone one meter (yard) underground on Sunday. The yard was one meter long, 40 centimeter deep and 40 meters wide.
The archaeological investigation crew then found 20-metre-long east wing of the structure which is believed to be its foundation.