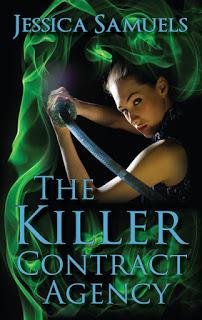 •  What is the title of your book? 
         ***
The Killer Contract Agency
•  
Please tell us a little bit about your book.
  ***
The Killer Contract Agency is about a girl named Salina Sinclaire, and she gets bullied so much she ends up in the hospital, and gets the attention of The Killer Contract Agency when a rogue Malian tries to kill her. She is a Hunter and they have a gene that makes them appear weak to lure Malians in so they can be destroyed using the power of The Bracelet.
   •  
How did you come up with your book idea? ***I was bullied just like the character, and instead of kids killing other people I wanted it to be aliens instead. I also wanted to create a way to empower the kids being bullied like giving them super strength and invulnerability to stop them. I was also into secret organizations that stop the horrible people from hurting innocent people, and I wanted t
he Bracelet to give them an assassin/super hero feel to it.
   •  
What are your publishing credits? ***
I wrote for the school newspaper, and a year on the yearbook. I run a blog called The Writing Dreamer and I have 4 ebooks and two paperbacks.
   •  
What are your plans for the future? ***
I plan on writing more books at this point. I have 6 books I'm working on, and I want to have fun exploring the worlds I've created. They are all going to take place in the Luxor and Crystal Crest realms. Some will explore the Angelic realm which is a realm of angelic beings, and Blood Fall which is a dark realm. I'll even bring in the merpeople as well.
   •  
What is your day job?  ***
Retail for now till I graduate and work in a newsroom, online, or write full time.
   •  
What is your preferred genre to write? ***
Paranormal romance in young adult and new adult, and some fantasy, too.
   •   How did you become a writer? ***I've been writing since the fifth grade, and my first fan fiction was me in the mommy returns. I've been writing ever since I could put a pen to paper. It did start in middle school, and I've been writing ever since. I finished my first novel in college, and published my first one before I was 21. I loved reading and writing is just something natural to me. I love books too so I was reading before I started writing.
   •  
Are you a planner, complete with detailed outlines, or do you fly by the seat of your pants when writing?***
Both. I've planned novels out when I got stuck, and some I've actually created an idea out of the blue and ran with it. For a few of them I actually have a few pages worth of what I want to happen and some are just general notes. Some I just said hey what if, and just ran with it. It all depends on the story and if I need to outline or not.
   •  
What is the best writing advice that you have ever been given? ***
Write what you know. Write what pisses you off, and write what you are scared of. Also never take bad reviews personal. Never give up no matter how hard it is since hard work pays off.
   •  
What advice would you give a new writer? ***
Think hard about it since it's not an easy road, and if they really want to do it then stay true to your dreams. Roll with the punches and never give up. Observe everything you see, and put your experiences in your writing. Keep going even when you feel like giving up, and writing is not just a hobby it's a passion and a way of life. Write drunk and edit sober like Stephen King. Don't let reality destroy you, and if someone pisses you off put them in a story as the victim. You are now in control over your world, and everything can be used as fuel in your writing.
   •  
What other projects do you have in the works at the moment? ***
I have been working on several at the moment like the first three Scarlet books, and it will talk about how she got involved with The Killer Contract Agency. I have also been working on a story called AngelWitch and it's about a girl named Angeline who can feel people's emotions and read their minds. She works as a sales associate for Kyle's General Store and hates it there. When she visits her friend Ginger's shop she finds out who she really is which is an AngelWitch. Her mom is a witch and dad is an arch angel, and she has to come into her power before Felix's evil brother Zach kills her in order to be fre
e of the dark realm called Blood Fall Hills.
   •  
What surprises can we expect from you in the future? ***
Expect stories with revenge themes like getting even with exes, bullies, coworkers. Stories about working in a supernatural retail store. Vampires, witches, werewolves, angels, dragons, necromancers. Kick ass heroines who don't need a man to rescue them and super hot guys that adore the main character with romance and fantasy. I write young adult, new adult, and paranormal romance so relationships and ass kicking are a must in every novel I write.
   •  
If you could journey into any of your books, interacting with the characters, which would it be and why? ***
I would rather interact with characters of AngelWitch because I love the world I've created and it would be cool to explore Luxor and the Angelic realm. I would also love to visit The Killer Contract Agency and meet Salina since I know what she has went through.
   •  
What public appearances do you have planned in the future? ***
I currently don't have any public appearances right now, and if I do I'll let my fans know.
   •  
Is there anything else you
'
d like to share with your fans? ***
I 
have a ton of stories to tell, and I hope you enjoy the ones I create. I love writing stories, and I want this to be my job permanently. 
The Amazon link: http://amzn.to/1Ykt80a