Indian fashion is enhancing with sustainable wear, functional outfits and revival weave where objective is greener and cleaner FASHION. Not just on party, you should look swanky on daily go as well –
  "Every day is a Fashion Show and the world is your runway".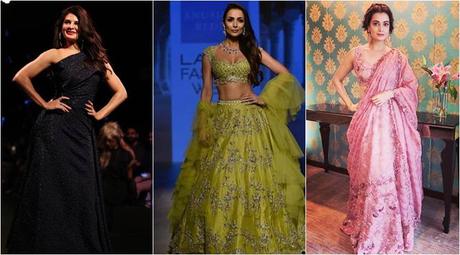 source : google
Recently the most prestigious LAKME FASHION WEEK 2018 showcased greener and cleaner look as theme. Salwar Kameez being most ethnic and comfortable pick for women ramped out in varied silhouettes which can effortlessly portray you trendy yet traditional. Fashion trend in sartorial choices is overwhelming the fashion industry. Capes are looking thoroughly feminine with a kurti or dhoti salwar with a blazer can tune-over the fashion quotient. Eco-friendly fabric and dyes are used to protect nature and your pampered skin too. Khadi is on-roll for a desi makeover.
Electrifying Varieties With Conduced Styling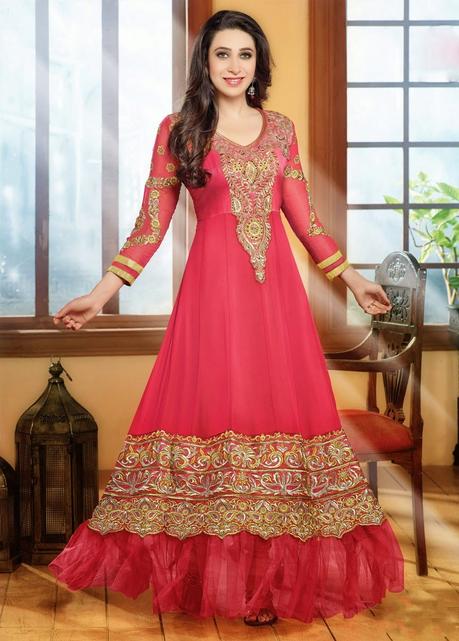 source : google
Salwar suits are most comfortable hassle-free wear. Being most ethnic you can accomplish yourself with it at party or office.  Luxe fabric embellished knit, lushy zardosi with complex embroidery work intricated with pearls, stones, beads and Swarovski adds to the exuberance. Shiny and glossy textiles endorsed with generous run over of supernova fashion marked of botanical element and aura of natural exuberance makes the fashion complete. Not just India, Salwar Kameez online in USA is highly demanding. Fashion designers now being globally 1 – has made Indian ethnic wear appealing to all women across world.
Latest Salwar Kameez In A Vogue Silhouette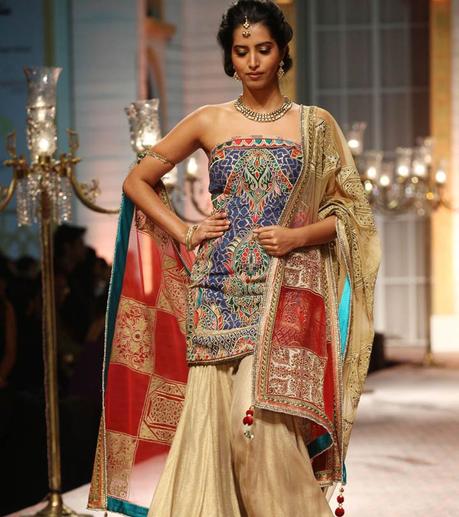 source : google
Indian Salwar Kameez online is a brief take on fashion world. Here we get introduced to some trending styles. Irrespective of your body type, skin tone and occasion you can take your pick from this most ethnic comfortable wear for women. Online segment with overreaching geography have unveiled numerous collection to you which is just a click away. Let's browse out options to drape you best in this festive season.
Anarkali Flair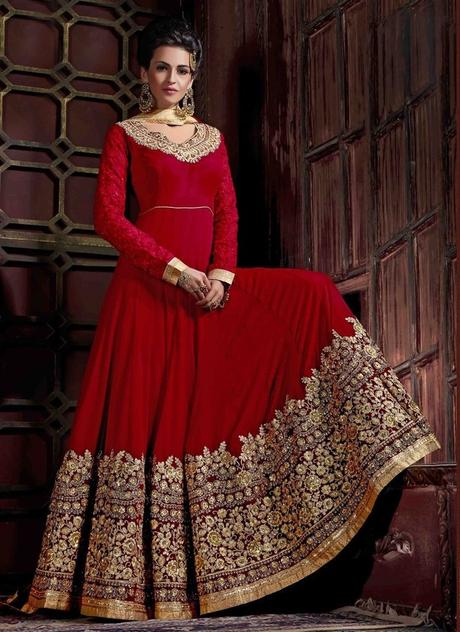 source : google
Ankarli Salwar Kameez is on high demand due its gown like flair with exclusive design flaunt and embellishment. For designer's grace and karigari this style is used for wedding, parties, occasion and office also. With flawless intricacy and seamless flair it reveals a distinctive pattern which drapes all figure type well. The floor length Anarkali Suit is high on ethnicity patterning a western form of gown. For gorgeous makeover silk, georgette and net are mostly used. It also comes in cotton with soothing intricacy for corporate decorum.
Angrakha Salwar Kameez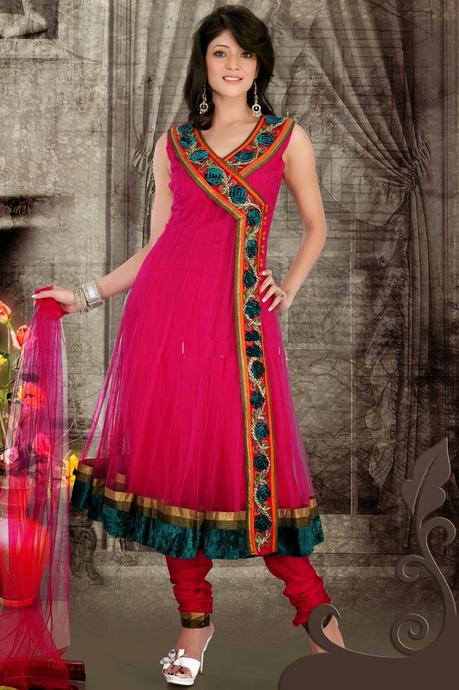 source : google
Angrakha style adds a versatility of fashion to salwar suits. The jacket pattern with overlapping layers and neckline shifting out from the midway forming a thick border turns left side. It is typically a combination of Mughal fashion. It can be worn with churidar. The jacket pattern can be embellished with intricacy of embroidery and knit work.  
Jacket Pattern Salwar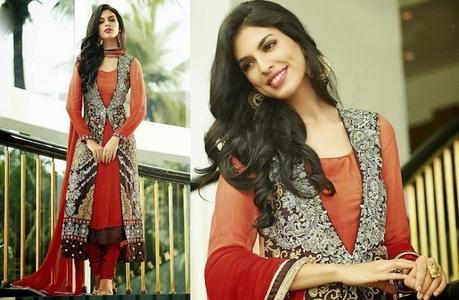 source : google
Jacket pattern salwar suits  are trending most among young women and fashionistas. This style being in vogue makes an ushering defiant statement on new genre feminity. With a kameez inside and a long jacket embellishing it adorns the party look. The jacket fabric is lighter and in contrasting combination to highlight the layout.
Front Slit Salwar Kameez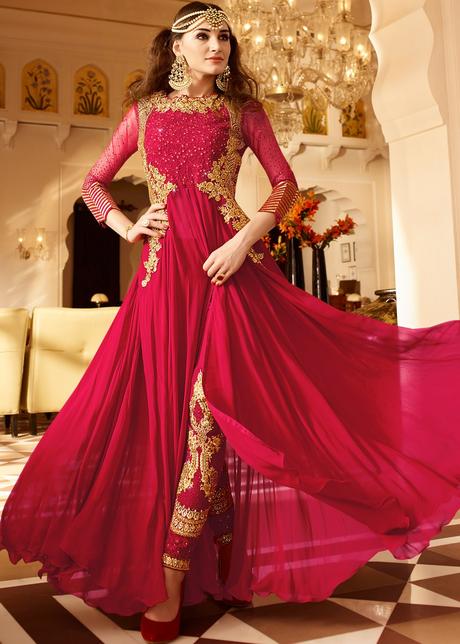 source : google
Front slit salwar kameez is on demand among all age groups. Not just front slits but asymmetric slits and high raised slits are on trend. With a cigarette pant or leggings such salwar kameez is good for party or daily use. In cotton or georgette fabric type is comfortable to wear.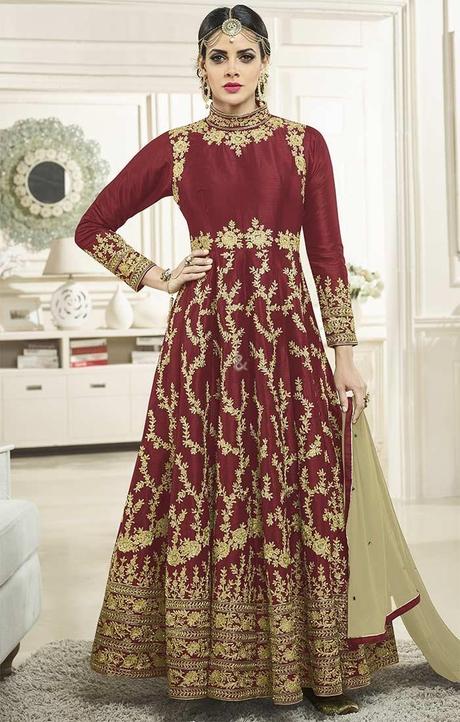 source : google
Easy to use and good to fit in any body type A-line salwar kameez upheaves the fashion factor to an ethnic yet promising outlay. Designer A-line salwar had been in fashion runway in the recent LKW fashion show. With a dupatta flaunted around neck it specifies your sharp curves with a flair at the end. Indian salwar kameez online has make a huge buzz and high search ratio in this category.
Some Conducive Pant Style With kameez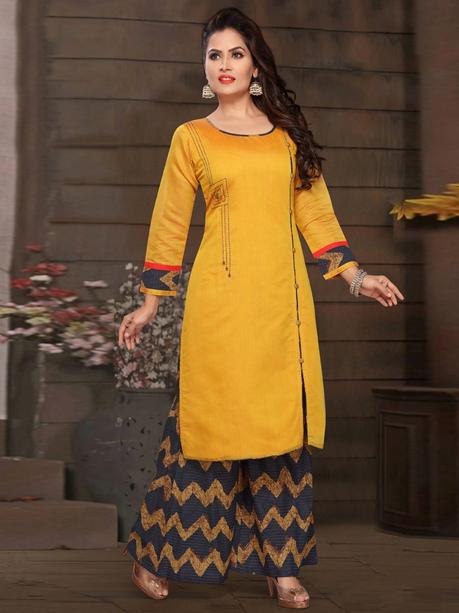 Dhoti pant, palazzo, parallel, harem, sharara are conducive styles of the season. With these new fashions women can add on to the style statement breaking out the traditional pattern of salwar kameez.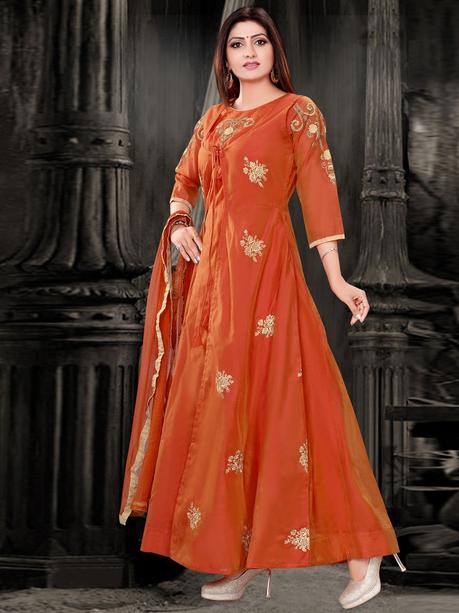 Salwar kameez online in USA has marked a high growth on demand. Fusing western style to the ethnic pattern the globalization in fashion world is a boon for designing and textile industry.
To get more updates on ethnic fashion and global demands follow this space regularly and get a makeover of your wardrobe ensemble.