From street side comfort food to modern fine dining in the best of five stars, Dubai can proudly boast of being the port of Indian flavors combined with a numerous population who come from different parts of the sub-continent. It isn't usual for us to entertain ourselves to Indian fine dining, mainly for the reason that I am spoilt for choice of hole-in-the-wall desi restaurants in the city. However, an invitation to review Junoon didn't go waste. I think, the name behind Junoon did the trick and sure Chef Vikas Khanna it is!
Seeing that I come from a household where Indian food rule my genes, reviewing Junoon was a tough task for the reason I haven't much appreciated a play of flavors in Indian fine dining back home. However, Junoon approaches traditional cuisine in all its originality yet manages to revamp it into a distinct personality while still balancing the base of Indian essence. What I mean is that the roots are untouched. Huge points for that. Junoon is spanked by a hip open bar to the right that exudes class and fun, and an extensive open kitchen where chefs are busy doing their dishes which means serious business; while a roof-to-floor glass wall to the left provides an amazing backdrop of a SZR stretch. One of the other few things we noticed as we were guided to our table, was a pre dominance of dramatic shade throughout the restaurant with ancient woodwork setting up as a theme. Having opened a little more than six months ago, the crowd at Junoon convey otherwise. We were rather glad to find a mix of nationalities while we dined.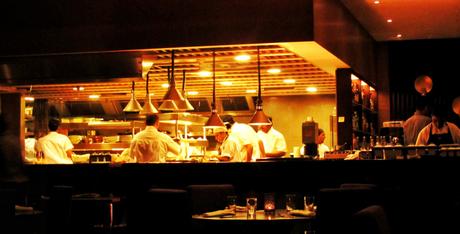 We kicked off with Spooky Manjas' – a signature mocktail at Junoon for each of us. Served in a chilled brass glass, the drink was beautifully executed with flavors of passion fruit, berries, pineapple and vanilla. A must try!
Every Indian will vouch for chaat; and the first appetizer we digged into left us dazzled. A gorgeous twist to street side food, Egglant Chaat came in with a distinct warp to a usual Papdi Chaat – thin and crisp eggplant slices topped with yoghurt, tamarind chutney and coriander in a sublime mix of sweet and piquant flavors.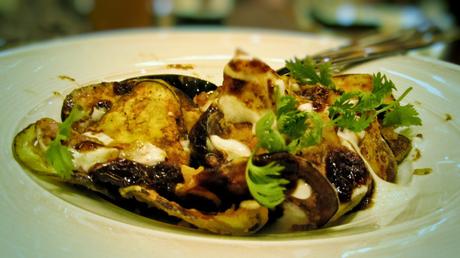 Moving ahead to a couple non vegetarian starters, Murgh Tikka Mirza Hasnu looked well dressed. The chicken tikka sticks honestly close to the classic we have known over the years, but what caught our attention was a unique broccoli puree; a fascinating rendition to a traditional coriander-curd chutney and a perfect accompainment to the grilled meat served with beetroot salad.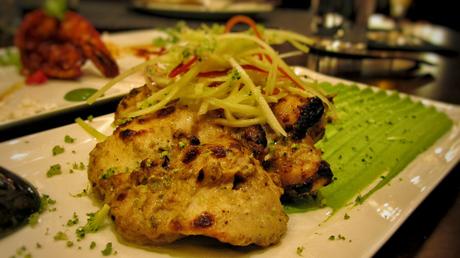 Another from a starter spread that our server insisted we try was Piri Piri Shrimp, that seemed to go undistinguished on the table. Though the tiger prawns were cooked to a nice tender crunch and many would crave more of it, the dish quantity of four didn't plea much if there is a large group at the table.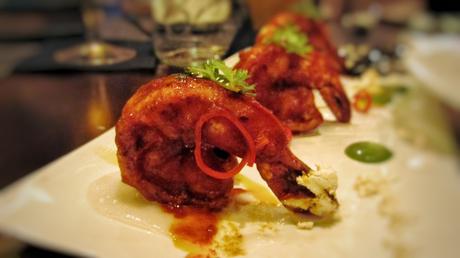 We really were so intrigued with the appetizer section so much, we went for another one, this time the patrons favorite – Saloni Macchi. A colorful platter of cape shark roasted in tandoor, served with beets puree and sea foam did entice our taste buds and left a yearning for more. We absolutely loved the play of veggies in each appetizer as we feasted.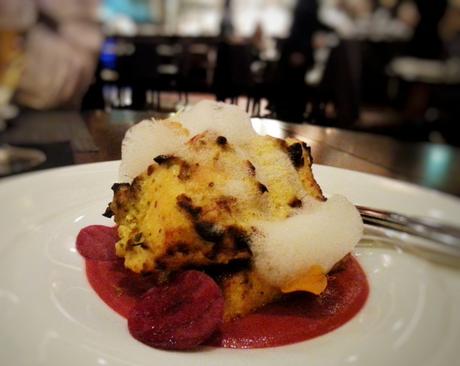 Though we would have loved to gorge on Biryani, the stomachs were already starting to feel full and settled for Murgh Dhaniwal, giving dessert a miss this time. A true to character and a good change from usual onion-tomato based curries, chicken thighs seared in deeply flavored cumin-onion gravy paired with garlic-naans (flat breads) did show that Indian food is all worthy of so much prestige.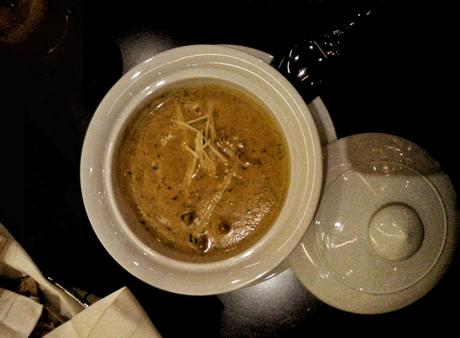 Junoon does a reasonably wonderful job of showing that Indian food does deserve a fine-dining stature still sticking to the classics of curries, kebabs and tandoors while representing an off-beat vision of Indian cuisine. A compassionate word should go out to the servers who are prompt, polite and helpful with their recommendations as well as presenting their very best even in the midst of house-full chaos.
Location – Shangrila Hotel, Level 2, Trade Center Area, Dubai.
Disclosure : Though we were invited at Junoon for a review, the opinions in this post are unbiased and remain my own.