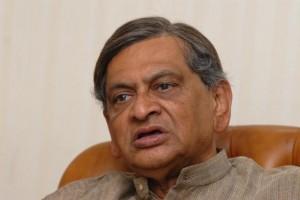 Indian External Affairs Minister SM Krishna steps down
India's Minister of External Affairs SM Krishna on Friday resigned from his post ahead of reshuffle of the Union Cabinet scheduled on Sunday.
The 80-year-old, US-educated SM Krishna has sent his resignation to the Prime Minister Manmohan Singh.
"I am making way for youngsters," said Karnataka-based minister, who took over the external affairs ministry after 2009 elections, after resignation.
Mr. Krishna's potential segregation or transformation of portfolio during the reshuffle is largely seen as the prime reason behind his shocking resignation.
His performance as External affairs ministry was considered ordinary and the analysts and BJB-led opposition often blamed him for taking the dictation from Manmohan Singh and his high-profile advisors in the formation of foreign policy.
With the assembly elections in Karnataka are due before May 2013 the congress is expected to give the veteran politician a party assignment in the state.
"I am a loyal party worker and will continue to work for the party," he told media.
SM Krishna's resignation has signified a wide revamp in Union Council of Ministers on Sunday. Though it is not yet known that who will fill the post fell vacant by Krishna but senior ministers like Kamal Nath, Salman Khurshid, Anand Sharma, and Ambika Soni will be the strongest contenders for the hot-seat.
There are also speculations that Rahul Gandhi might take up ministry but the sources close to him has ruled out the possibility as according to them he is still reluctant to join the government.