Incontinence products come in a wide range of sizes from extra small to XL+. Heavier individuals may find it difficult to find larger sized briefs in brick and mortar stores. Fortunately, National Incontinence carries a variety of XL+ products for bariatric patients.
Our newest addition is the McKesson Ultra Plus Bariatric Brief. Offered in a size XXXL (waist size up to 95"), these bariatric briefs feature a soft, breathable material with stretch panels for a snug fit. The non-woven acquisition layer quickly absorbs liquids and keeps the skin dry and free of odors.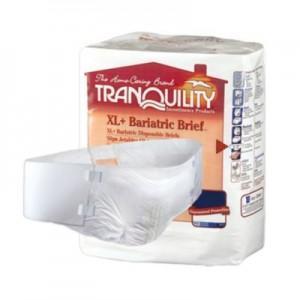 The
Tranquility bariatric briefs
are a popular option among our customers. These come in two styles: XL+ Bariatric (fits waists 64-90") and Hi-Rise Bariatric (fits waists 64-96"). Both briefs have a maximum absorbency of 34 oz, more than twice what an adult bladder can hold. The Hi-Rise briefs have an extended back and stretchy side panels to ensure leakage protection from all sides. These Tranquility briefs work well for bedridden patients and protection against adult bedwetting.
Another popular option is the Prevail Bariatric Briefs. These briefs feature stretchy panels that will accommodate waists of up to 100" wide. The cloth-like outer layer allows the skin to breathe and the Odor Guard helps prevent stool and urine odors before they start.
When shopping for incontinence briefs, be sure to choose the correct size for your body type. Wearing a diaper that is too small or too large will only cause the brief to leak and put you at risk for skin infections. Click here to check out our selection of bariatric briefs.