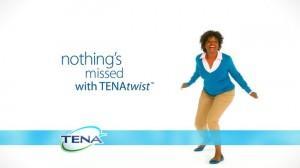 Looks like Depend isn't the only incontinence brand with a new advertising campaign.
SCA, global hygiene and forest products company, announced last week that they're launching a new brand packaging for their TENA pads, making it easier for women with a leaky bladder to choose incontinence pads based on their lifestyle.
Instead of labeling most of its urinary incontinence products based on absorbency level – something that many incontinence brands, like Kimberly-Clark's Poise, do – TENA will now be using the terms, "Stylish, Active, and Anywhere."
"At SCA, we've spent years studying the needs of women in all stages of life who are experiencing light bladder leakage or what we refer to as the unexpected leak," Robert W. Wilson, vice president of consumer sales for SCA's Personal Care, North America, said in a press release. "One of our key findings was that the technological language used on incontinence product packaging, such as absorbency, is not as differentiating for consumers as it once was. Consumers are seeking a more intuitive approach to finding the products that will work for the occasions that face throughout the day."
In a commercial for TENAtwist, three women, dressed in different outfits, ecstatically dance around while wearing the incontinence pads. "Stylish is form-fitting, Active moves with you, and Anywhere gives all day comfort," the voiceover explains.
Basically, the Stylish pads are the least absorbent, offering discreet protection in a sleek design. The Active products have a bit more absorbency to them, while the Anywhere pads, the most absorbent, are designed for everyday activities.
Although unexpected leaks and light bladder leakage affect millions of women worldwide, it's still considered a taboo subject for some people. As companies work to eliminate the stigma of urinary incontinence, hopefully women, who experience such bladder control problems, realize that they're not alone and that there are absorbent products available designed for full protection, while maintaining confidence and dignity.