Welcome to the fourth entry in our monthly income and traffic report!
In this series we are planning on sharing our traffic, earning, and spending figures each month so you can get a glimpse inside the business of travel blogging. In addition to sharing these for your use, by publishing our information we are also able to stay on track with our own goals for our business.
Last month we shared our targets from March, and now that April has ended, it is time to share those figures too! So how'd we do? Read on to find out!
Living the Dream's April 2015 Traffic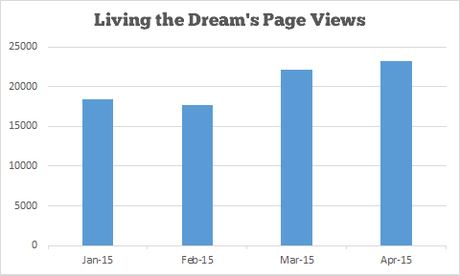 Our traffic for April 2015 was just over 23,000 page views.
When compared to our traffic in March, our April traffic was up by 9% on a per day basis. Likewise, when comparing April 2015 to April 2014, our traffic was up by 75% - continuing the trend we saw in March.
I had higher hopes for traffic in April, but to be honest we did very little to actively promote our site beyond our standard marketing (and even then, I probably dropped the ball on that for a week or so thanks to outside commitments). The fact that we had notable growth doing our basic marketing means that many of my site changes are starting to take hold and was evident by an increase in Google page views by about 100 per day. This was enough to overcome a decrease in social media page views and still push us forward overall.
Considering I was slacking for the month both on our standard marketing and on Pinterest, I'm happy with the growth. Although it is encouraging to see everything go up despite this, I need to be more proactive on social media in the coming months to encourage more growth.
Living the Dream's April 2015 Income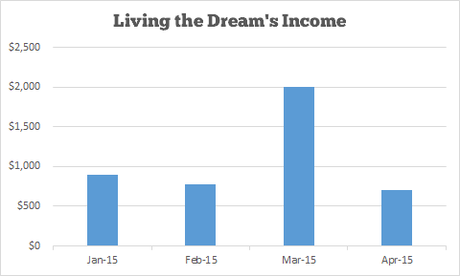 Our booked income for April 2015 was approximately $700.
It is worth noting that this feature illustrates our booked income for the month. This is not the income we actually received, but is instead all the income we have confirmed agreements for that were arranged within the month. Some work may be finished, others may not, and a slim percent (hopefully none) may fall through in the coming weeks. But since this is how life is online, this is how we have decided to display our income in this series.
This dollar amount includes the following breakdown:
Direct Advertising: $315
Amazon Affiliates: $65
Other Affiliates: $0
External Work: $300
Media Sales: $0
Adsense: $9
I always hate lower income months, because, well, I know we can do better. The problem with this is that when working on the advertising and sales model, you really can't predict how things are going to go. I'm working behind the scenes on a few more ideas to try and jump start our earnings but it has been going slower than anticipated. If all goes well I am hoping to have them out throughout the year.
Want to support our site in your travels? Our Book Your Trip page has affiliate links to all of the services we personally use and recommend when traveling and blogging. By making a purchase through our links we'll receive a small commission and the price you pay will not change.
Living the Dream's April 2015 Spending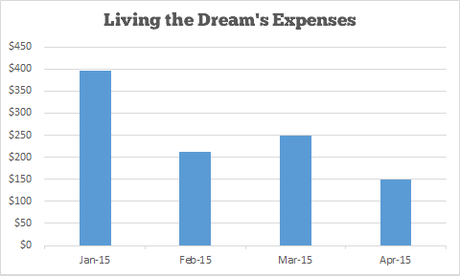 Our spending for the month of April included the following:
Social Media Advertising: $49
Staff Payments: $100
Total: $149
Overall, our spending for the month of April was down significantly from March as we had no recurring payments going out, other than to our staff. I'm still working to get towards the position where I can increase our spending, specifically on advertising and product purchases, but I'm not prepared to do that just yet.
Goals for May 2015
I have a feeling May is going to be another month much like April. We're working on a lot of things outside of this site and will probably still be focusing on those throughout the month such that our site goals may not have our full attention until June. Such is life.
The one nice thing for this is that if we do slack a bit on our standard marketing and continue to experience growth, especially from search engines, then it will mean that our SEO overhaul after migrating was worth the effort. The most popular theory is that it takes 3 months for SEO changes to start giving results, and we're right there in seeing an uptick- so I'm excited to see what is in store for the coming months. If what I'm seeing in the last few days of the month continues, we could be in for a great month in May.
I'm also going to continue work behind the scenes to try and get a few product sales out the door, but the chance of success on that front is not the greatest so we'll see how it goes.
Finally, if all goes well we'll be introducing our newest team member here at Living the Dream in the next few weeks. I'm really excited for this one because she is an incredibly cool traveler and is planning on hitting all seven continents in the next two years. But you'll have to wait just a bit longer for that one.
We'll let you know at the end of May how it is going!