Hi everyone,
Today I shall be talking about glimmer blushes from Incolor cosmetics. If you are a beauty addict and from India you may know that brands like Miss Claire, Teen Teen, Me On etc are selling products at the most affordable prices and are exact dupes of the high end  brands. I am all about budget products and I have always believed in using only affordable products. On my shopping trips in the past to Beauty Centre/Shop in Mumbai I hoarded some of these glimmer blushes from Incolor cosmetics which is local brand just like the other ones I have mentioned above. I shall telling you about the shades I have and what I think of the. Read on to know more......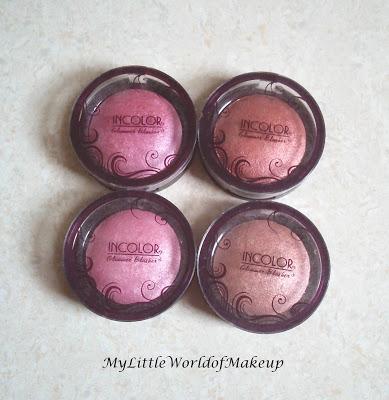 Price: I got them for less than Rs.150/- It may cost upto 300 bucks depending from where you buy it.Availability: You get them in Mumbai and Delhi can't say about other cities.Ingredients:Mica, Talc, Paraffinum liquidum,Dimethicone, Magnesium aluminum silicate,Phenoxyethanol, Tocopheryl acetate, Methylparaben,Ethylparaben,Propylparaben,Butylparaben, BHT, Pigments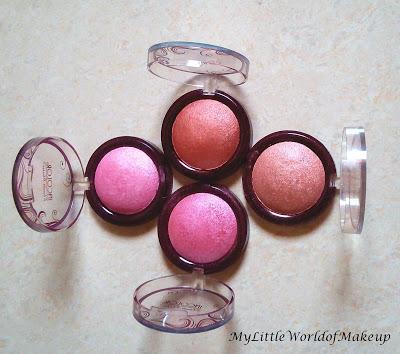 What does the brand say:
Baked to sheer perfection, this luxurious formula is packed full of pigments to provide a natural glow and highlight to the face. Uniquely designed to be used wet or dry, depending upon the makeup statement you want to make. When used dry with a brush, the look is light and fresh. Want more color? No Problem! Apply wet with a makeup sponge for more intensity.
Packaging:
The blushes resemble baked blushes which are sold by brands like ELF cosmetics abroad. The case is made of plastic and the lid is transparent hence you can easily locate the shade. Ingredients and shade no. are mentioned at the back. It does not come with a mirror or small brush for touch ups. Overtime it can get loose hence it is best to not carry it along while traveling.
I have the following shades:Shade no.01: It is a blue based purple pink and more pigmented than no.03 mentioned below. I had done a detailed review of this one HERE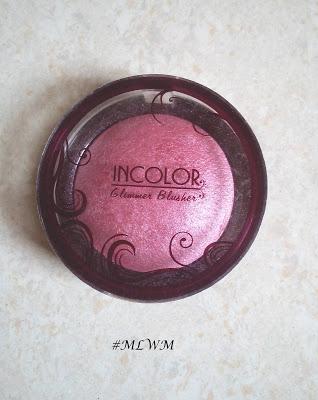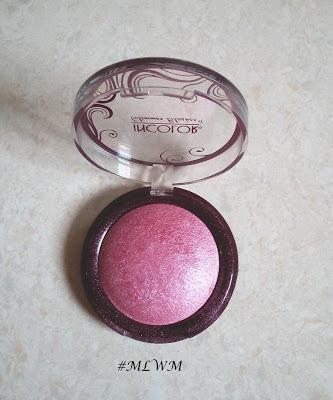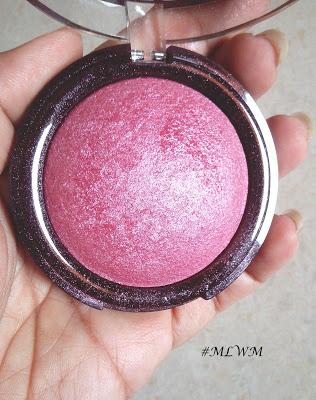 Shade no. 02: A bronzey and coppery color which is superbly pigmented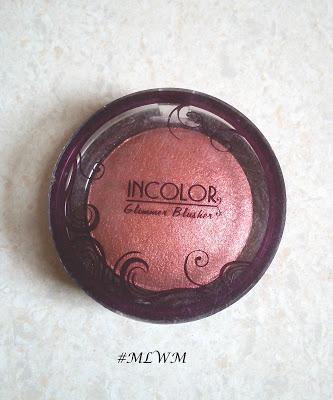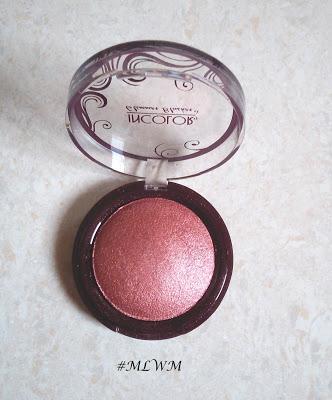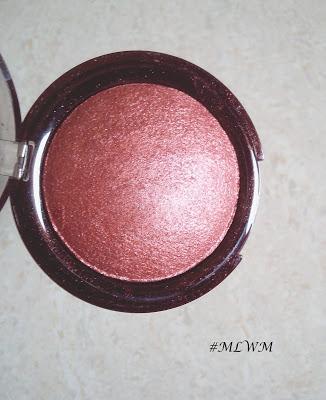 Shade no. 03
: It is a baby pink color and will suit all skin tones.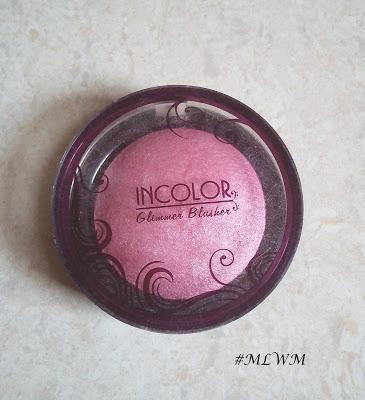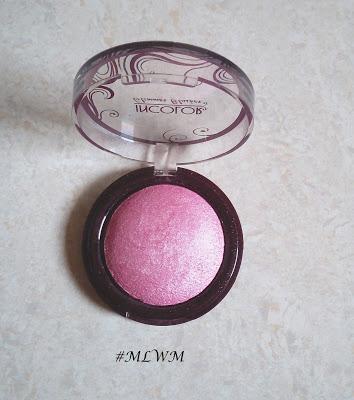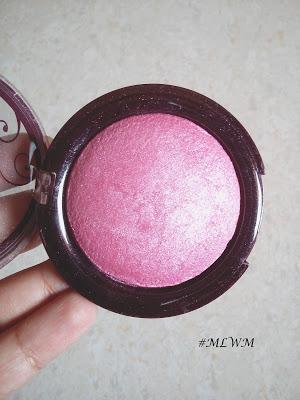 Shade 05: This one is my favorite. It is a peachy golden color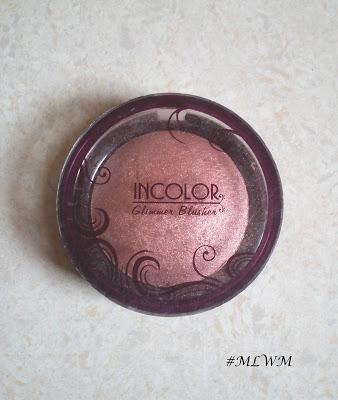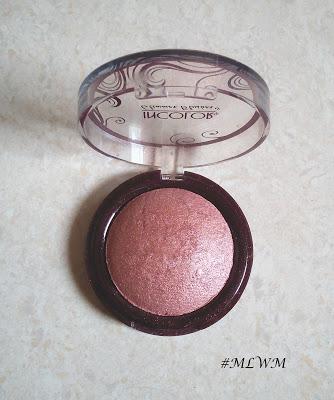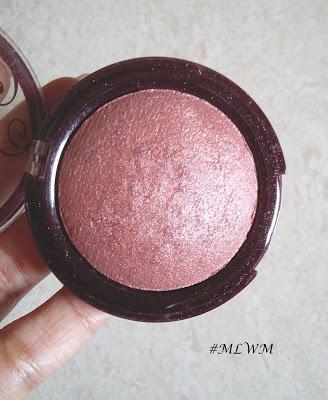 All blushes as the name suggests are shimmery but they are finely milled and not chunky. They are very pigmented and can be layered based on your skin tone. I am not a big fan of these blushes as I have open pores on my face but they will suit most skin types. They can also be used as an eyeshadow which I like.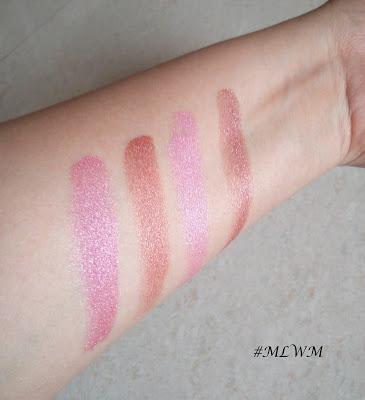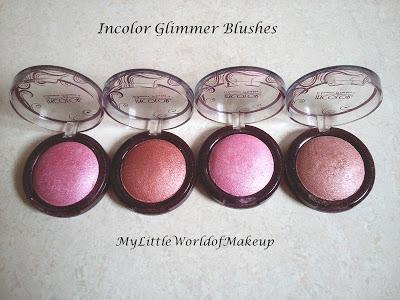 Incolor Glimmer Blushes
The availability and the parabens in the ingredients list are the only 2 things I can say are a problem. They come in a variety of shades and are amazing to be honest for the price as make up is so expensive now a days  in India. I do recommend to try atleast one of these ☺
Rating: 4.2/5So what you think of  Incolor Glimmer Blushes ??Would you buy it or have you tried it??Do let me know in the comments section. Thank you for taking the time to read this post. Hope you found it useful and informative.Until next time.. Take care xoxo

P.S: Products have been purchased by me. This is not a sponsored review**