Hi girls,
I hope you liked the lipstick review I did from Lissome cosmetics. I love bright pinks and that was one of my favorite shades as it instantly brightens my face. It was a while since I talked about any blush in my reviews so here I am. In most metro cities you may come across brands which are not popular in the market but trust me if its affordable and good most women grab it and some try some out of curiosity. After all women and make up.. Lol We can never have too much of make up wink* wink* The blush I shall talk about is the Incolor Glimmer Blusher in no.03. Let us find out more about this blush in the review below.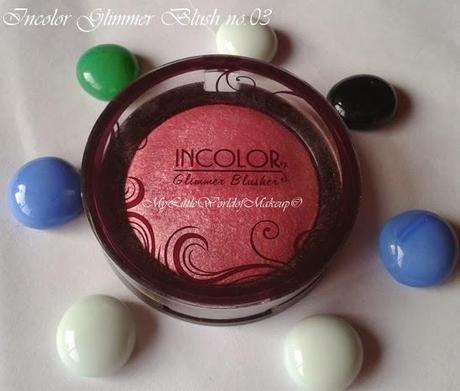 Ingredients: (seems cruelty free by the logo in the pic below :D)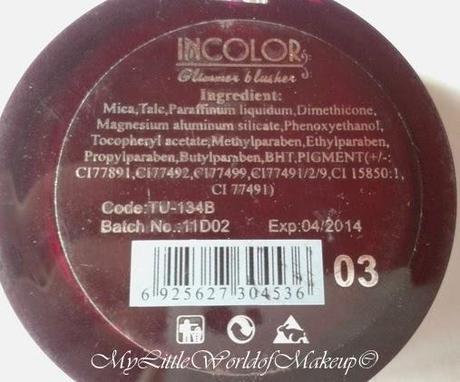 Price: I got it for Rs.120/-  may vary at different places.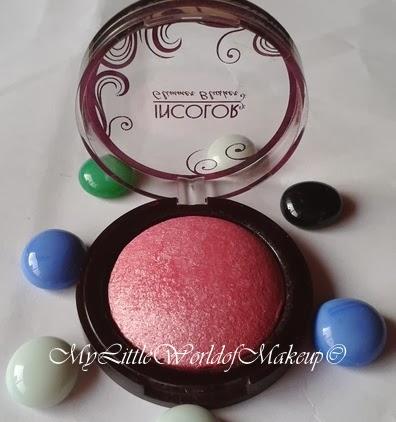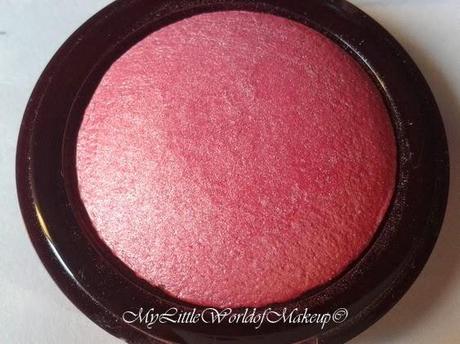 The blush comes in a brown body and the lid is transparent with lovely floral designs on it to make it appealing enough. The lid is transparent and hence the shade is easily visible through the cover which is good for me since I have a couple of these and it becomes easy for me to choose the shade I want. It does click lock which is good and hence is travel friendly. But the lid gets loose overtime with repeated use so one needs to be careful with it. Also you do not get any brush along with it. Hence I would say the packaging is not great but for the price I understand why. :p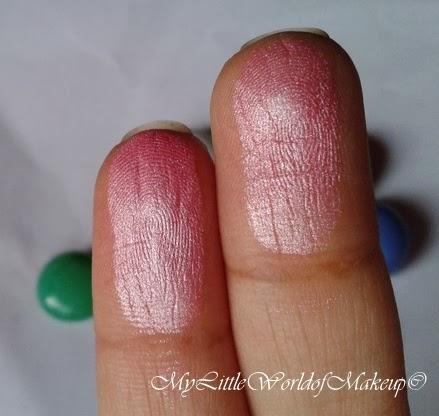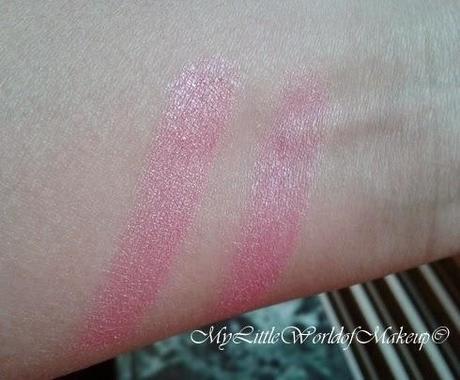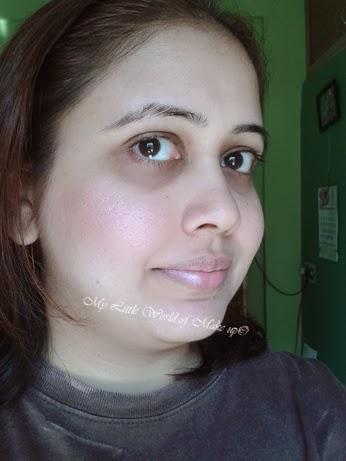 (This is how it looks on me.. )
The blush as it says is a glimmer blusher and no points for guessing it right that it contains tonnes of finely milled shimmer... Tadaaa!!! The blush is a blue based light baby pink blush with loads of silver and golden shimmer. Hence it does the job of a blush and a highlighter as well. During my childhood and teenage years I remember I was so much crazy about baby pink color whether it was lipstick, nail paints or blush like this. This blush gives a nice fresh look to the face when applied and the shimmer gives a bit of a glow too. The blush is decently pigmented and gives you a natural pink flush on the face. This shade will suit all skin tones in my opinion unless you hate baby pink. The blush can be layered on for more intense effect. It lasts for a decent amount of time. The only issue with glimmer/ glitter blushes is that they accentuate the open pores on the face hence you  need to prep your skin before hand as it will easily accentuate the pores. Hence this blush is not recommended for those with open pores problem. Availability may be an issue because these are not sold online and may only be available in local beauty shops. This brand was sold on flipkart as far as I know but then they do not sell it anymore.
The Good:
Inexpensive.
Lovely blue based light pink color.
Gives a nice sheen to the face - no need to use a highlighter separately.
Pigmented enough.
Decent staying power.
The not so Good:
Availability is a major issue.
Contains parabens.
This blush accentuates the pores on the face as it is full of shimmer.
Packaging is plasticky and flimsy also you do not get a brush along with it.
Rating: 3.8/5
Overall this is a decent shimmery blush ,wish it was less shimmery though. The blush reminds me of the Elf baked blushes which are unavailable here. For the price its decent and worth a try. 
I hope you liked my review and found it helpful. Please leave a comment below would love to read your inputs.
Love,