This week I've popped my Bob the Builder hat on and am doing some construction work. Kinda… well to be honest it's the web-building kind of construction work. Still counts!
Building a new area for the English Wedding blog
Wedding blogs in the UK are growing in number, in size and in popularity. The top blogs easily rival wedding magazines for readership, loyalty and quality of content.
More and more brides and grooms are switching on to wedding blogs as a new source of inspiration and somewhere to find alternative ideas for more personalised weddings.
Bringing brides and grooms and businesses together
I get a lot of enquiries from small wedding businesses about advertising on the English Wedding blog. As much as couples are searching for forward thinking wedding suppliers, those businesses are looking for a way to reach those couples and showcase their wares.
Traditional blog advertising works well on the big wedding blogs, the likes of Rock'n'Roll Bride, Rock My Wedding and Love My Dress. A sidebar ad on any of those will set you back – but it's worth it to strengthen your brand and reach thousands of readers every day.
But as a wedding business owner with a smaller budget for advertising, I can't afford to put The Wedding Calligrapher on those top UK wedding blogs. I don't think I'm alone: only the lucky few of us can afford hundreds of pounds for advertising each month.
Blog advertising that works for small wedding businesses
In January I launched the English Wedding Advertising Toolkit and this is still being sent out to selected wedding businesses by invitation only. There are sidebar positions available on English Wedding but they go hand in hand with our recommended supplier slots, our expert advice pages and other advertising strategies. Places are limited for each of our advertising tools.
Blog advertising that fits the nature of wedding blogs
Blog advertising is a new concept for the UK wedding industry. But what makes me very wary is the nature of blogging and the potential for complacency: sponsoring English Wedding shouldn't be like plonking an ad in a printed magazine. By its very nature a blog has fast moving, fresh, daily content. Why can't advertising on a blog be the same? Shouldn't it be?
I think so.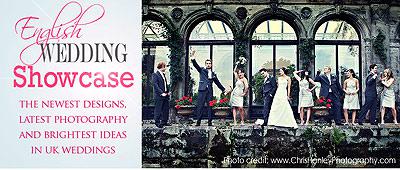 Coming soon... register your interest here
The English Wedding Showcase will give wedding businesses a chance to shine, to say more about themselves, to yell from the rooftops about new products and launches and latest ideas for those brides and grooms who are inspired by wedding blogs as a whole.
To register your interest as a wedding supplier, please pop a comment in the form below and once the new site is up and running I'll send you a copy of the lovely virtual flyer I'm going to design… next.
Claire x