In the wave of all that destruction of cheese, it should be no surprise that cheese products are becoming both expensive and scarce. Imagine what a shock to see cheese on supermarket shelves that is packaged in tamper proof plastic boxes!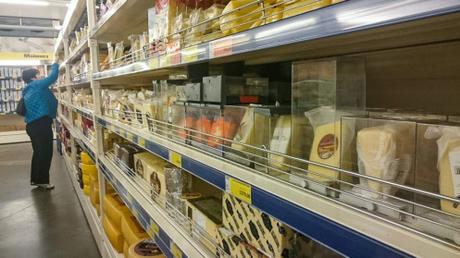 (Photo: Ilya Varlamov)
While the government continues to bleach and bulldoze under any cheese that makes it come Customs, supermarket shelves are beginning to take on a new look. The special plastic housing is to prevent shoplifting, as cheese has become a valued commodity given the government's bent on destroying any cheese that comes in from the outside world.
Customs official are especially keen on destroying cheese and related products from the Netherlands and Finland.
The joke on Russian social media is that cheese, as it is becoming scare and valuable, will be the new gifting fad. Instead of flowers, supposedly men will arrive with cheese when courting a lady.