My mum, Joan Mary Elizabeth, was born on the 12th April 1919 in Liverpool, the eldest daughter of Ernest and Alys Eckes.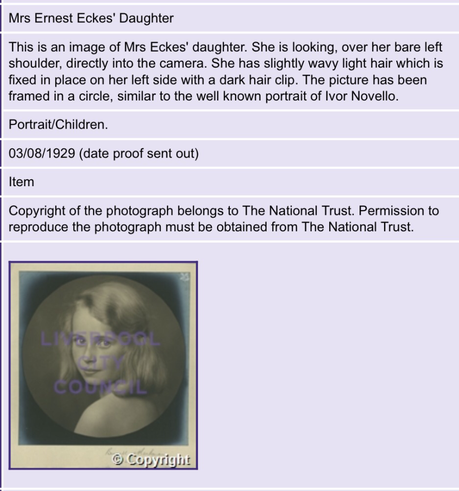 The above photo of Mum was taken by Edward Chambre Hardman, when mom was 10 years old.  Hardman was a renowned photographer who lived in Rodney Street, Liverpool which is now owned by the National Trust.   Much to my excitement I found this several years ago when running a family search through the Liverpool archives.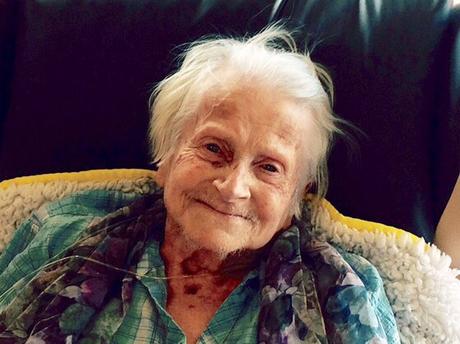 Life with mom was not always easy,  when Theresa May said she was a "bloody difficult woman" she hadn't met my mum!  We had our ups and downs believe me, she could be stubborn and unbending.  She was adamant to stay in her own home when it was obvious she was not managing, so when she went into hospital just after Christmas 2008 with pneumonia it was time to persuade her that a nursing home was the better place for her to be.  With some gentle cajoling – we told her to look upon it as a 2 week recuperation – she moved into Caer Gwent Nursing Home, Worthing on 4 January 2009 at the age of 89.  We had been told to expect her to live another 6-12 months and it was important she was somewhere nice.  After 2 weeks she decided she loved the company and the food and asked to stay.   
Eight years later following a 10 day fight to stay alive, mom finally gave in and passed away on Sunday the 4th June 2017 at 08.00a.m.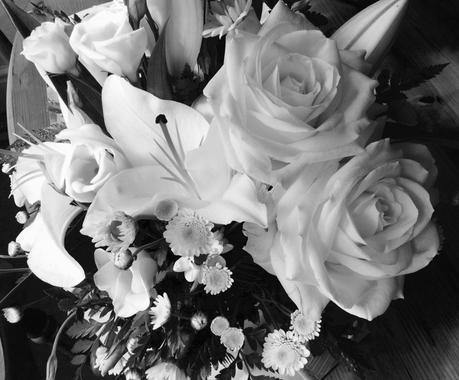 With an excellent diet of good food, the most wonderful caring staff and daily activities mom thrived.  She became a happy, contented lady, developing a wonderful sense of humor I never saw as a child.  Brushing away all our past difficulties,  we built an exceptionally happy mother/daughter relationship and I spent a lot of time with her.  Mum still kept her feistiness and was known to dig her heels in on occasions refusing to do things, but was always charming and mortified if she knew that she had upset any of the staff, apologizing profusely.   Something elderly women suffer from is a 'hairy chin' she would only let the male staff shave her, saying only they knew what they were doing!  Singing the "Sun has got his hat on" with her was another ruse to get things done.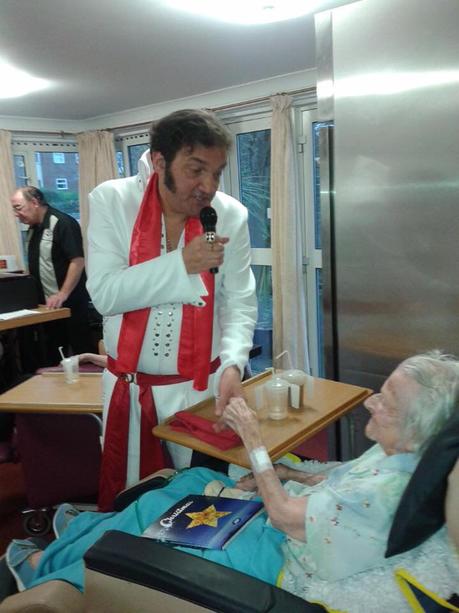 The nursing home is just around the corner from me and when mom was mobile enough for a wheelchair,  we would go down to Worthing seafront and people watch, mum's favorite pastime and eat ice cream, her favorite food.  She loved shopping, especially at  Christmas when we negotiated the aisles with a basket on her lap, and she tried to buy everything!   Singers are regular visitors to the nursing home and mom would sit there conducting the music, which always made everyone smile.   Even in her late 90's she enjoyed Elvis!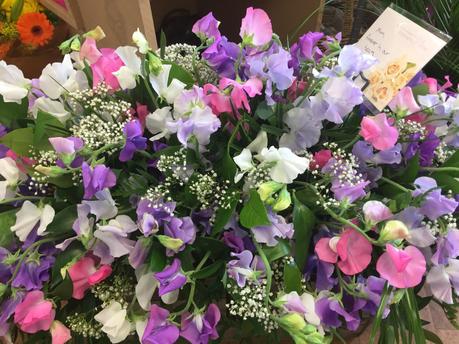 Mum loved gardening, and no matter where we lived and the soil conditions, she always managed to grow sweet peas.  I have grown them in my garden for her ever since she moved down here.  She loved sitting in my garden just looking at all the flowers and would look up and say "Look at the sky Ron, it's so blue".  Mum never got over how blue the sky was!  I have ordered a double ended spray of sweet peas to go on the top of her coffin, a wicker one, and it will have a garland threaded around the edge with sweet peas.  I sat with mom on Sunday morning, holding her hand, talking about gardens and flowers, I hope she left us with lovely thoughts.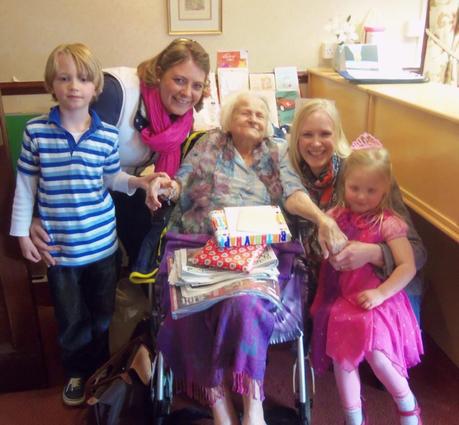 Mum on her 95th birthday – 2014
Her greatest love was her two granddaughters, her great grandson, Jamie, and great granddaughter, Scarlett.  You can see how proud she was of them from the above photo.   On days when she was being unco-operative the carers would talk to her about Jamie and Scarlett which always worked a treat.  
Like most elderly people she was wise and always had the right comforting words when needed by us. 
There are certain phrases I will always associate with mom – if she didn't hear or understand what you said to her, she would lean forward and with a frown ask "a whichy-what?" and "Yum yum" when talking about food.  Two days before she died, mom was very frail and weak, but when we talked about the upcoming Strawberry Tea to he held at the nursing home, she whispered "yum yum" at the mention of strawberries.   My cousin Katie said a short prayer at her bedside, and halfway through the Hail Mary, mom piped up "chocolate biscuits!" we fell about laughing and will always hear this now when saying that prayer.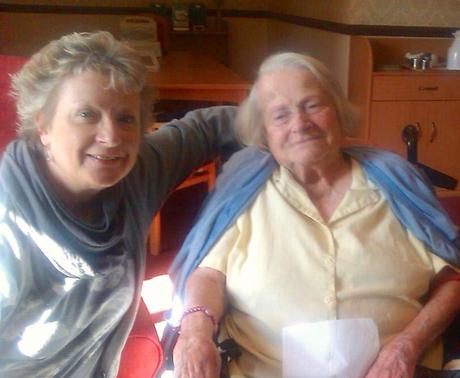 Mum on her 93rd birthday – April 2012
Although Mum's death was expected and I visited her and sat with her every day for her last 10 days, joined by my cousin Katie on the last few days, her death when it came was still heartbreaking and I will miss her dreadfully.  Even this afternoon when working in the garden, I looked at my watch to see if it was a good time to visit her.  I suppose that will take time to fade. 
 I know it is not for everyone, and until now the mere thought of it filled me with horror, but I visited mom yesterday at the funeral parlour and sat with her for a while.  She actually looked healthier than she had done for the past few months and had lost that awful yellow palour and the dark purple around her sunken eyes.  I had been warned sometimes undertakers overdo the makeup but they got it just right.  Being with her yesterday I has really helped me understand that she has left us and it's time to stop feeling so desperately sad.  
I hope there is an after life and she is somewhere happy watching people and eating ice cream, saying "yum yum".