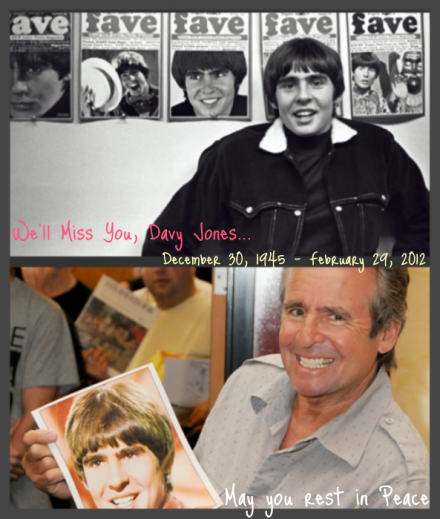 I write with a very heavy heart on this sad day. We've lost a member from one of the most beloved groups, The Monkees. I first saw the news around 2 p.m. on MSN's headline photos. I couldn't believe it. I typed his name in Google and sure enough, more articles kept showing up, saying the same thing: Davy Jones has died. Even though I've had a few hours to let everything sink in, it hasn't. It just feels like a horrible dream and I'm hoping to wake up because I don't want it to be true.
I was supposed to meet Davy on June 3 of this year at a convention and I was very much looking forward to it. It was always a wish to meet a member of The Monkees and when I found out he was going to be there, I thought, "This is is going to be awesome." For years I had said to my mother that if I ever did meet Davy, I was going to mention "Reg! Reginald Fairfield!," a character he played on an episode of Boy Meets World. He introduced himself that way in the first scene when Cory opened the door. From then on in the episode, whenever someone asked who he was, Cory would mimic his accent and say, "It's Reg! Reginald Fairfield!"
I was also going to bring a 1967 issue of a teen magazine devoted to The Monkees which had full-page color photos of each member. I was going to have him sign his photo that was on the second page. I couldn't wait to talk to him about the band, the episodes, and the music. To this day, I watch The Monkees every weekend on Antenna TV and unfortunately, I'll never get to tell him.
My thoughts go out to his family, friends, and his bandmates. Davy was still young & it just shows that you never know…it can happen so unexpectedly. I'm still pretty numb about the news but I still wanted to pay tribute. Below is the official video for "Daydream Believer" which was released in October of 1967.
Rest in Peace, Davy Jones. Thanks for sharing your talents & kindness with the world for so many years. You will be missed.