Our photographer was on holidays with his girlfriend at the Gasthof Adler in Germany when he did a double-take as he recognised two celebrity guests arrive in a sleek 1960s Karmann Ghia. Could that be Angela Merkel and Michael Schumacher, away for a discreet, um... weekend together? No, apparently they're just Karman Ghia enthusiasts off to a gathering of the Karmann Ghia Fan Club, where Michael is a guest speaker. Michael had promised the Chancellor a quick drive down the country lanes with him would be the perfect way to get there.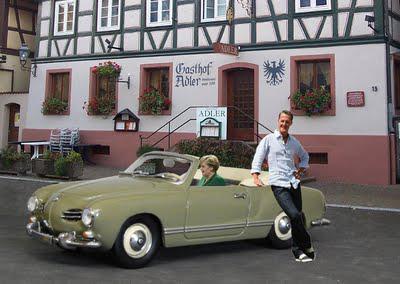 Well, that's their story, but you can tell from the expressions on their faces that Michael
and Angela have been having a lot of fun in a beautiful old classic car.
What a wonderful looking car they are, too. I have to confess though that my real love of Karmann Ghias is to see them parked somewhere. Somehow when the engine starts and you hear that too-familiar flat-four Vee-Dub sound, some of the magic disappears. Nevertheless, they are a beautiful car. This model is a 1:43 by Minichamps. When I saw it, at first I thought "no, not olive-green, I want a yellow one" (not sure why). And now I really like the olive green, because it's a bit unusual, and it's the only olive-green car in all of my diecast cabinets. It's a soft colour that complements the soft, rounded lines nicely.