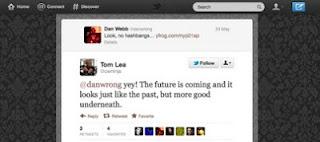 Twitter announced that its Web site will be opened sooner. 
In its official blog, Twitter would be a hashbang (#!) In the URL address and reduce the 
load
 for the first game. 

"To increase the use of Twitter.com, we move tasks browser to our server," wrote and Webb, manager of the technical Twitter blog. 

'These changes reduce the load by 1/5 of the time previously required and reduce the burden on the browser's performance. '

Some of the changes reported by Webb include:
Remove the #!

Reduce the load time for the first tweet

Only load what is needed
Starting this week, sponsored tweet will show the new architecture and other changes will slide in coming weeks.
source